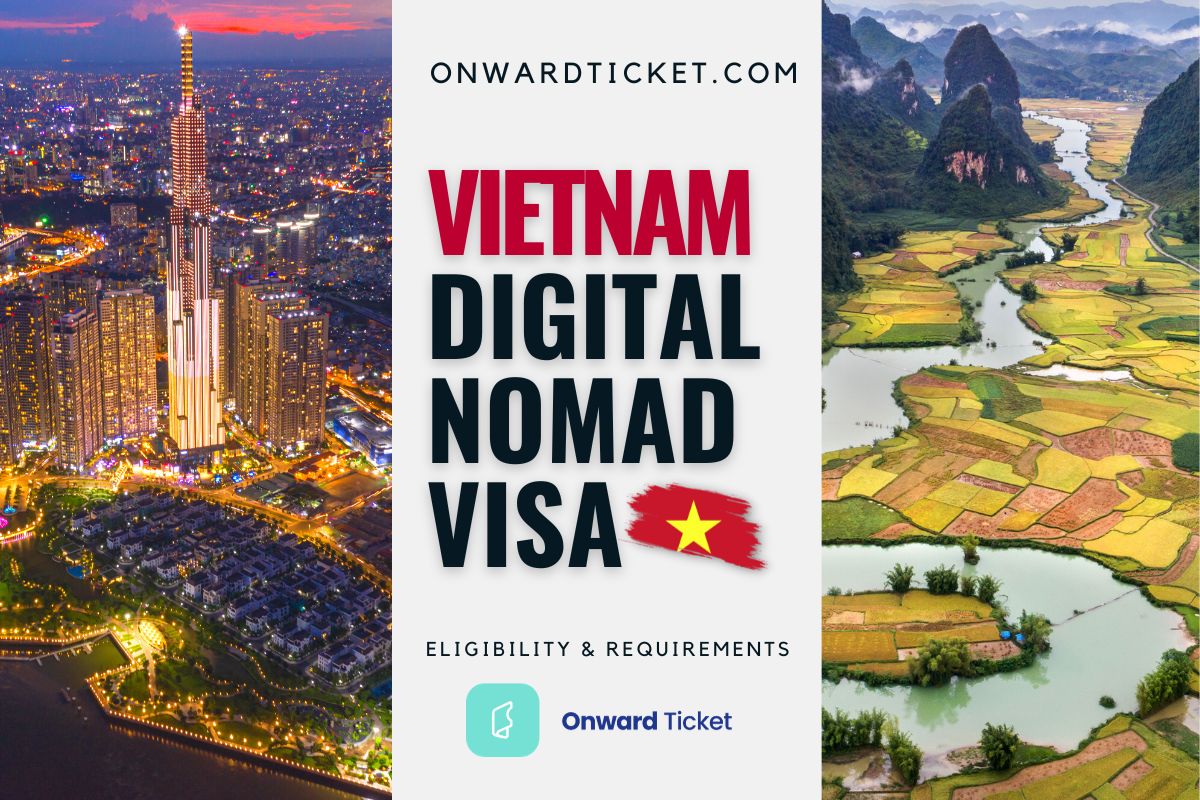 The country only started to welcome international travelers just a decade ago and, for now, there is no such thing as a Vietnam digital nomad visa.
And while the charm of its landscapes and urban hubs attract more and more digital nomads, you will have to dive deeper into its array of viable visa options if you wish to work remotely from its shores.
Vietnam Digital Nomad Visa – Key Points Explained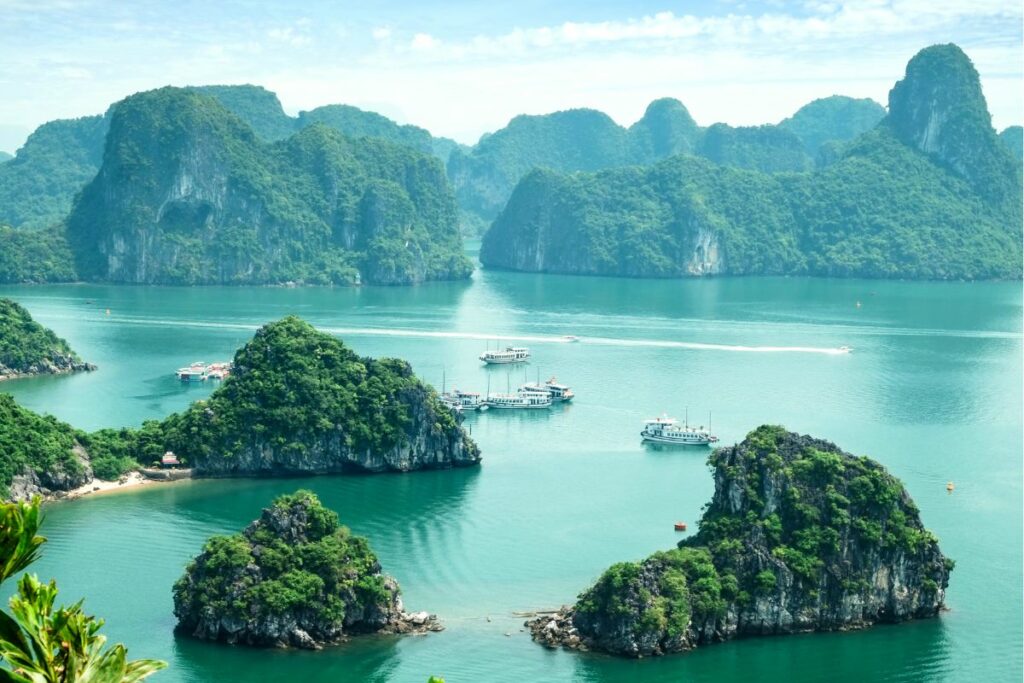 Vietnam has piqued the interest of digital nomads and travelers as it offers an enticing blend of affordability in an Asian landscape.
But the first thing here is to get familiar with the nuances of the Vietnam digital nomad visa.
In Vietnam more than anywhere else in the world, the visa system is still evolving and may present some challenges for candidates.
The market is awash with agencies claiming to provide legitimate visa services, many of which are mere profit chasers.
Basically, as a digital nomad in Vietnam, you will have access to four solutions : visa exemption, eVisa, Visa on Arrival and specific visa.
Is It Hard To Get Digital Nomad Visa For Vietnam ?
In comparison to other countries offering digital nomad visas, securing a similar arrangement in Vietnam might seem a bit ambiguous.
But it's not necessarily harder, just different.
If you're curious about how Vietnam stacks up and the alternatives it presents, keep reading !
We've got the insights to guide you through.
Digital Nomad Visa Vietnam Types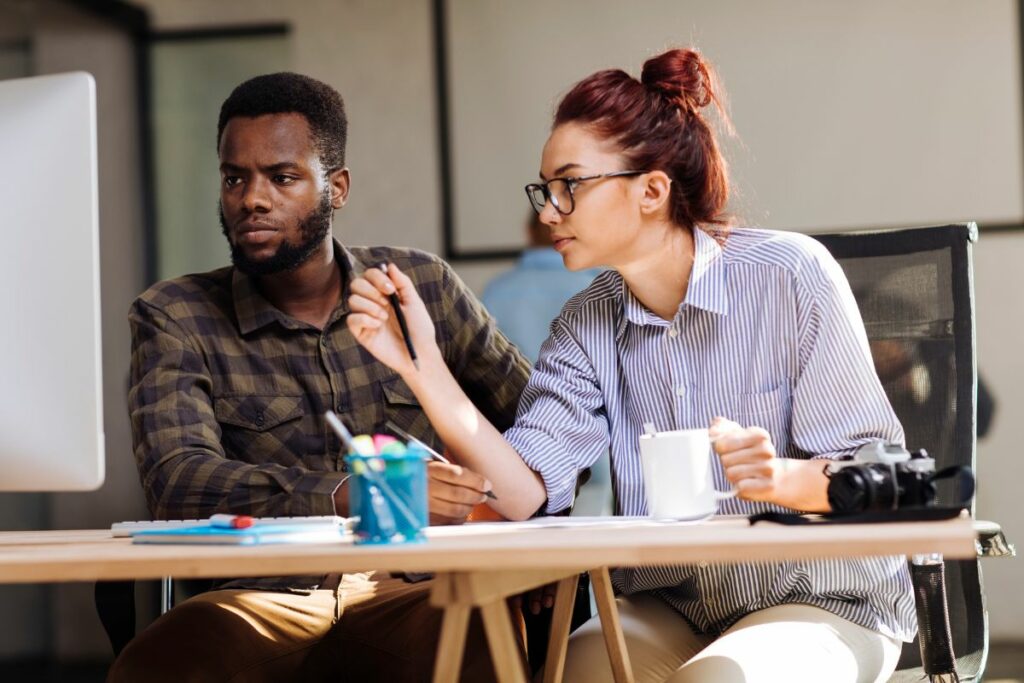 Even if Vietnam doesn't offer digital nomad visas, you will have access to a variety of options tailored to your needs.
Here's a quick breakdown on digital nomad Vietnam visa :
Visa exemption : a noteworthy route for 23 nations that allows their citizens a stay of either 14 or 30 days, contingent on their country of origin.
E-visa : this visa caters to 46 nationalities and offers a straightforward 30-day sojourn in Vietnam.
Vietnam 90 day visa (or visa on arrival) : a predominant choice for many, this Vietnam 3 month visa suits a majority of nationalities and permits them a generous 90-day stay.
Work visa Vietnam : if you intend to engage in formal employment in Vietnam, then you will absolutely have to secure a work visa.
Tourist Visa required : Some nationalities must seek pre-approval from the Vietnamese consulate before they move to Vietnam.
Vietnam Digital Nomad Visa Requirements & Eligibility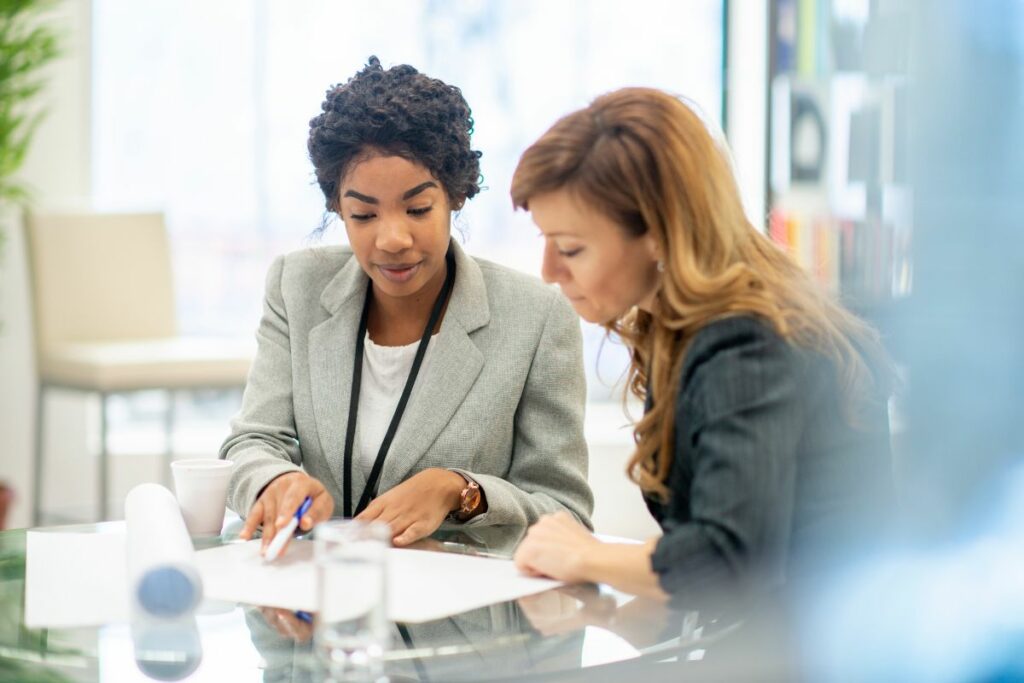 Even if there are no specific visas for digital nomads Vietnam, there are several digital nomad visa Vietnam options you can choose from.
Amongst them, visa exemption is primarily designed for Vietnamese citizens overseas, foreigners who are spouses of Vietnamese citizens and children of Vietnamese overseas or Vietnamese citizens.
The E-visa is a good option. It's open to several nationalities including but not limited to Australia, Canada, France, Germany, India, Japan, United Kingdom and the United States.
Requirements for Vietnam e visa :
A passport valid for a minimum of six months.
A full passport data page photo in .jpg format.
A passport photo in .jpg format (4×6, white background, without glasses).
A legitimate international credit or debit card.
An email address for correspondence and support.
A temporary residence address in Vietnam.
Another good option is the Visa on arrival. This one is available for many nationalities.
Vietnam Remote Work Visa Income Requirements
Vietnam does not have a specific remote work visa like some other countries.
And while many countries stipulate income requirements for such visas to ensure you can sustain your stay, Vietnam has not instituted any explicit income threshold for its standard visas.
Apply For Vietnam Digital Nomad Visa With These Documents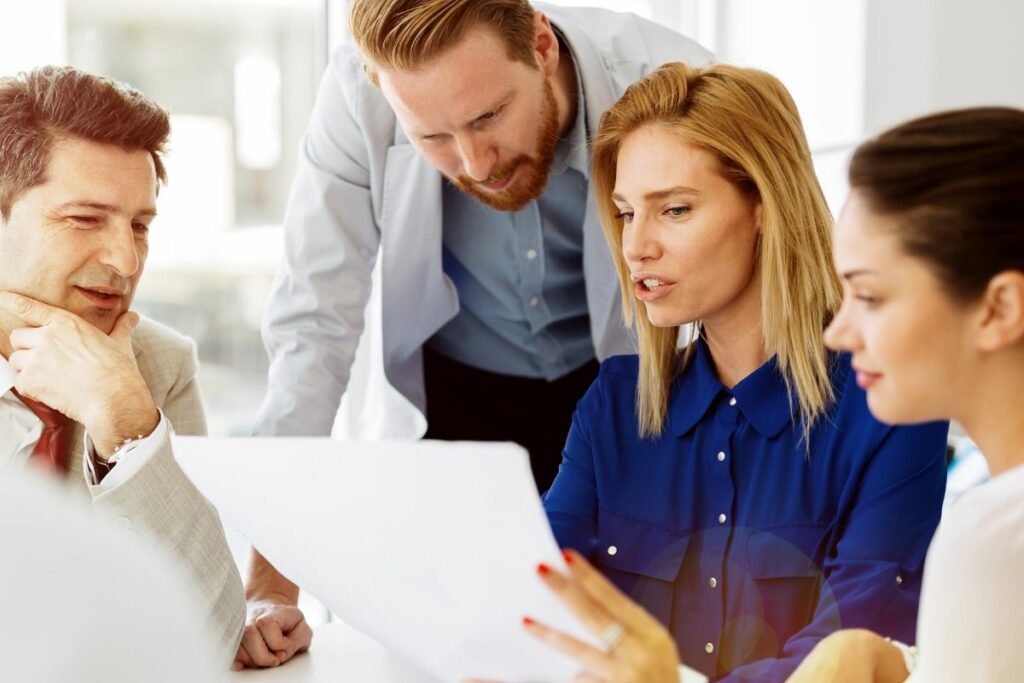 No matter which visa you choose to enter Vietnam legally, you will for sure have to show these documents for your application :
Passport : must be valid for at least six months from the date of entry.
Vietnam Visa digital nomad application form : this form captures essential details about your intended stay.
Visa approval letter : if you're opting for the visa for Vietnam on Arrival. It's a pre-approval letter issued by the Vietnam Immigration Department.
Entry and exit form : provided during your flight, ensure it's duly filled out upon arrival.
Passport-size photos : respecting the specified dimensions and guidelines.
Proof of Vietnam visa fees payment : depending on the visa options you choose, ensure you have receipts or confirmation of the payment.
Additional documentation : it's not uncommon for the Vietnamese embassy or consulate to request additional supporting documents, especially for the business visa.
Vietnam Digital Nomad Visa Application Process Step By Step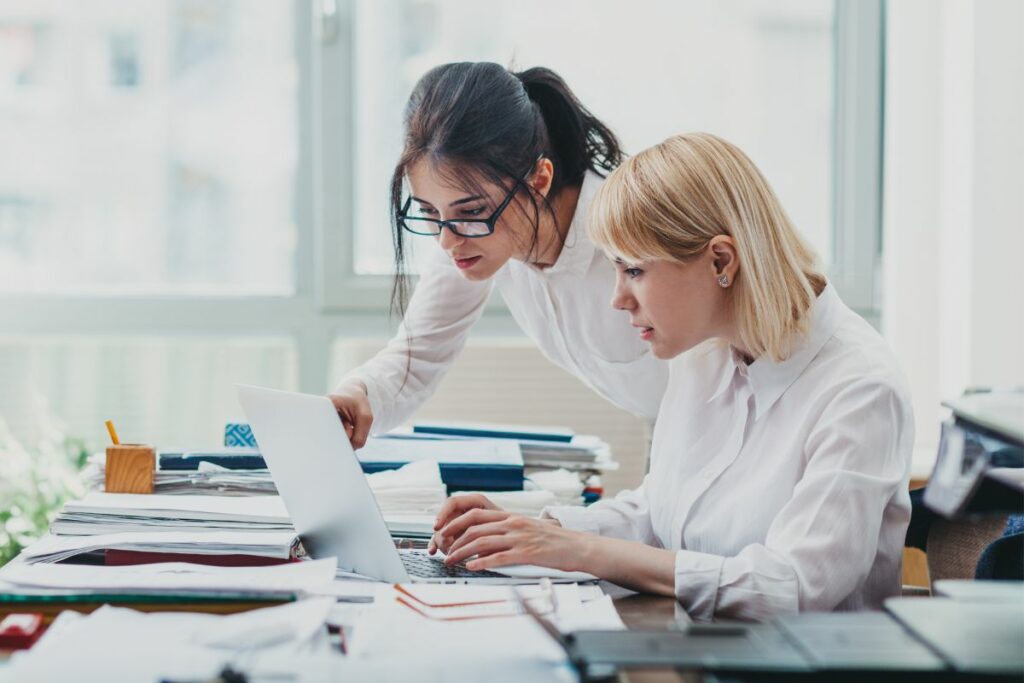 Here again it all depends on the visa for Vietnam you choose. But here is how it usually works :
Determine your visa type : identify the visa type best suited to your stay duration and needs.
Online application for visa on arrival : fill out the application form online, pay the requisite service fee and await a pre-approval letter.
Receive the approval letter : it usually takes 2 to 4 working days to receive, depending on the visa agency you choose.
Air travel preparation : note that the Visa on Arrival is exclusively for air travel. During your flight, you'll be handed an entry and exit form (Vietnam Visa Application Form). Complete this form ahead of landing.
Officer's office at arrival : upon landing at one of Vietnam's international airports, head to the officer's office designated for visa processing.
Visa stamping fee : bring cash to pay the visa stamping fee (around 50 USD).
Receive your visa : after processing, you'll receive your visa. This visa has a duration of one to three months.
E-Visa processing time : if you opt for an E-visa instead, expect around three working days for processing.
Embassy or consulate application : should you choose this route, the processing time varies based on the specific embassy or consulate.
Renewal Process Digital Nomad Visas In Vietnam
The renewal process for the Vietnamese digital nomad visa options is pretty straightforward.
If your stay extends beyond the initial visa duration, you can apply for a renewal. What you have to do is approach a local travel agency in Vietnam to facilitate the process.
They'll guide you through submitting required documents and fees.
How Long Is Digital Nomad Visa For Vietnam Valid For ?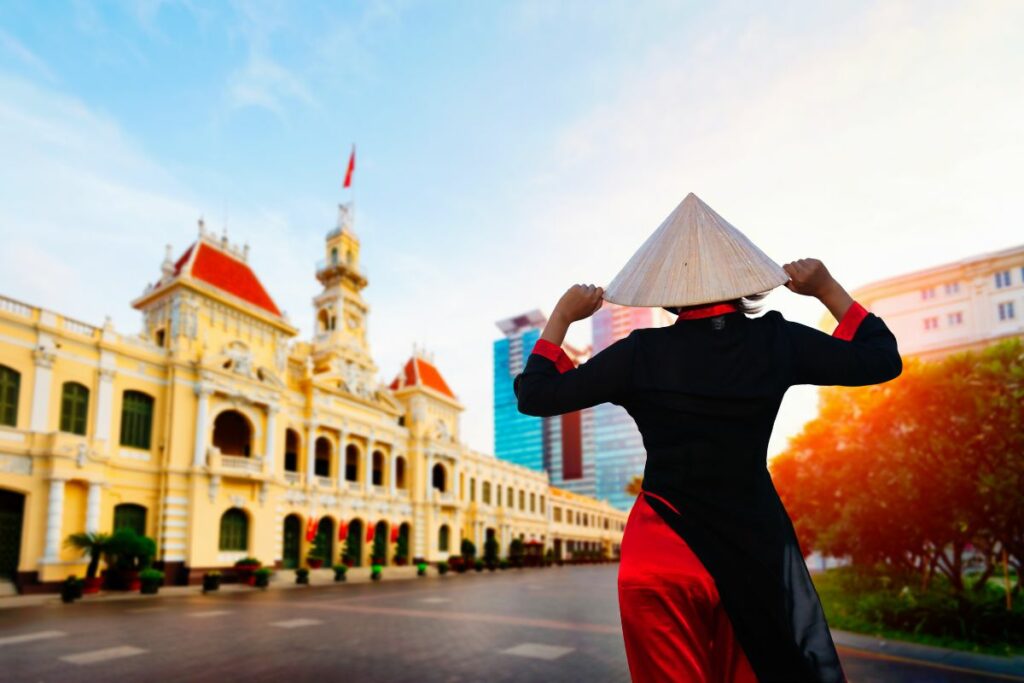 Here are the different visa validity depending on the visa for digital nomad in Vietnam you choose :
Visa exemption : depending on your nationality, this visa is valid for either 14 or 30 days. Specific groups like Vietnamese overseas citizens or spouses of Vietnamese citizens can extend it with frequent border runs.
E-visa : this visa type is valid for a 30-day stay.
Visa on arrival : this visa is valid for a 90-day stay, but it can be extended.
Regular tourist visa : Depending on the specific visa category and your nationality, this visa allows stays of up to 90 days with possibilities for extension.
Business visa : this visa is valid for 2 years and can be extended for another 2 years.
Cost Of Digital Nomad Visa Vietnam
The visa fees for Vietnam vary based on the chosen visa type and occasionally on the applicant's nationality :
Visa exemption : this option is free for eligible nationalities, but potential extension costs can arise if you choose to prolong your stay.
E-visa : the fee for an E-visa application is around 25 USD. This fee is non-refundable, even if the visa application isn't approved.
Visa on arrival : while the online application costs around 6 to 50 USD depending on visa length and processing time, an additional stamping fee of 50 USD is required upon arrival.
Regular tourist visa : fees vary based on nationality and visa category. They range from 40 to 80 USD.
Vietnam Digital Nomad Visa Tax To Expect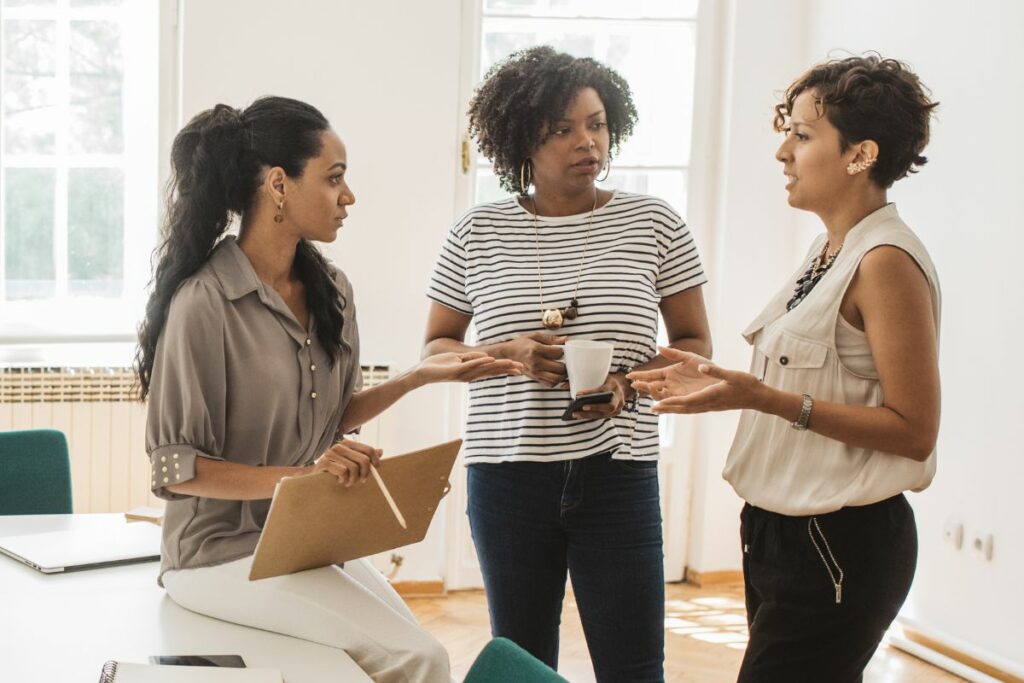 Are you considering the Vietnam visa digital nomad ?
Then take into account potential tax implications.
Vietnam imposes a Personal Income Tax (PIT) on residents and non-residents based on their worldwide income and Vietnam-sourced income.
As a digital nomad, even if you're earning from sources outside of Vietnam, the tax laws are actually quite complex.
But if you're in Vietnam for fewer than 183 days in a 12-month period, you're usually considered a non-resident for tax purposes. The standard non-resident tax rate is 20% on Vietnam-sourced income.
How Long You Wait To Get Vietnam Digital Nomad Visa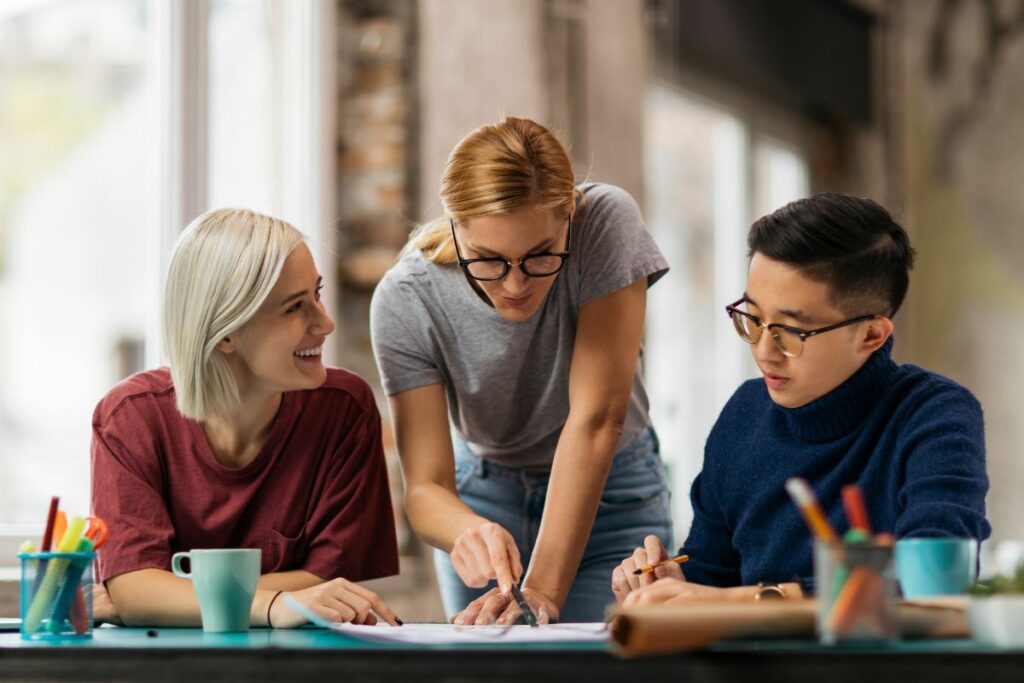 The waiting time is based on the specific type of visa application.
For the eVisa, you can expect a processing time of around three working days.
For the visa on arrival, the Letter of Approval takes between 2 to 4 working days.
Once you arrive in Vietnam, the on-site visa stamping process takes additional time, especially during peak travel times when the immigration lines at the airport can be long.
Bringing Family With You
If you're planning to work in Vietnam as a digital nomad and wish to bring your family along, please continue reading this section.
Family members will need their individual visas to stay in Vietnam, irrespective of your visa type. Spouses and children can apply for dependent visas, which are tied to the primary visa holder's status.
The requirements and eligibility for these visas vary based on nationality and the specific family relation.
Cost Of Living In Vietnam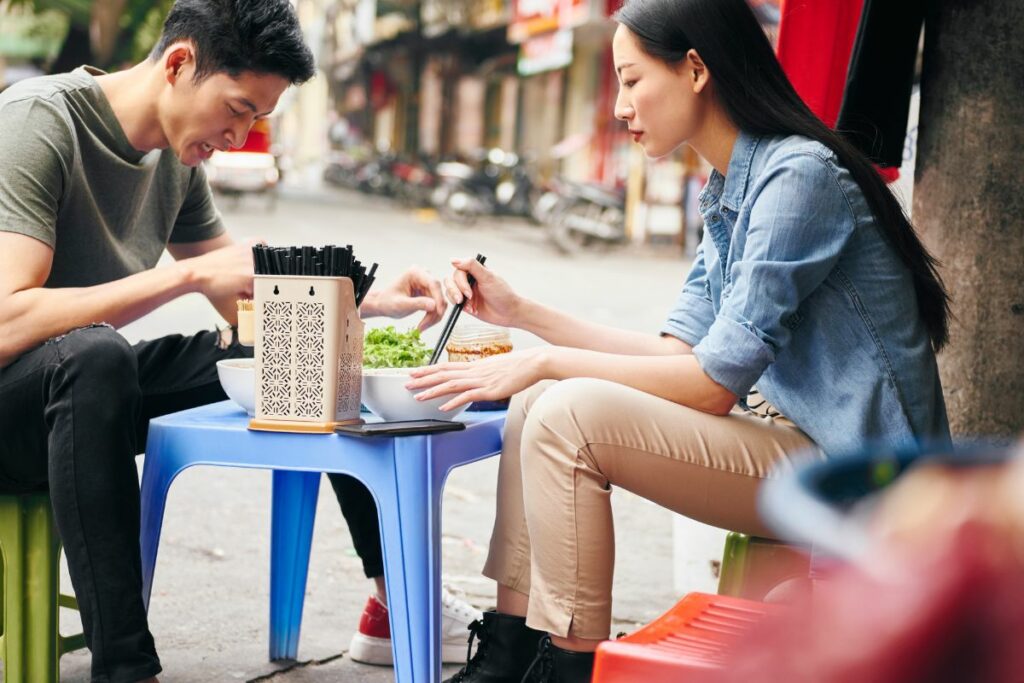 One of the benefits to choose for digital nomads is the fact that the country offers a pretty low cost of living.
Biggest cities like Ho Chi Minh City Hanoi offer modern conveniences and their cost of living remains quite low compared to Western standards.
Below is a brief overview of some typical costs you can expect.
| Accommodation | Cost |
| --- | --- |
| Rent | 200 to 300 € / $220 to $330 |
| Buy | From 30000 € / From $33000 |
| Hotel | 20 to 50 € / $22 to $55 |
| BnB | Around 15 € / Around $17 |
| Food | Cost |
| --- | --- |
| Restaurant | 5 to 15 € / $5,50 to $16,50 |
| Groceries | 100 to 150 € / $110 to $165 /month/pers |
| Fast Food | 3 to 5 € / $3,30 to $5.5 |
| Transports | Cost |
| --- | --- |
| Train | Around 8 € / $9 per 100km |
| Bus | Around 0,5 € / $0,55 per trip |
| Taxi | 0,5 to 1 € / $0,6 to $1.10 per km |
| Car rental | 30 to 50 € / $33 to $55 per day |
| Airplane | 40 to 100 € / $44 to $110 per national trip |
| Leisure | Cost |
| --- | --- |
| Day excursion | 15 to 30 € / $17 to $33 |
| Nightlife | 5 to 20 € / $5,50 to $22 |
| Museum / attractions | 2 to 5 € / $2 to $5.5 |
| Outdoor activities | 20 to 30 € / $22 to $33 |
You can also check the Cost of Living in Vietnam here.
Is There Digital Banking In Vietnam
Yes ! Vietnam has witnessed rapid digitalization in its banking sector over the past few years.
Banks like Vietcombank, Techcombank and VietinBank have developed mobile banking apps that will allow balance checks as well as fund transfers.
On top of that, several fintech startups further foster the digital banking ecosystem.
Which VPN Works Best In Vietnam For Digital Nomads ?
Wishing to secure your connections while in Vietnam ?
ExpressVPN will probably be your best choice during your stay.
Renowned for its fast speeds, strong security features and ease of use, it ensures uninterrupted online access with as much privacy as you might need.
Whether you work remotely or stream content, ExpressVPN offers reliable connectivity in Vietnam.
Popular Digital Nomad Hotspots (Cities) In Vietnam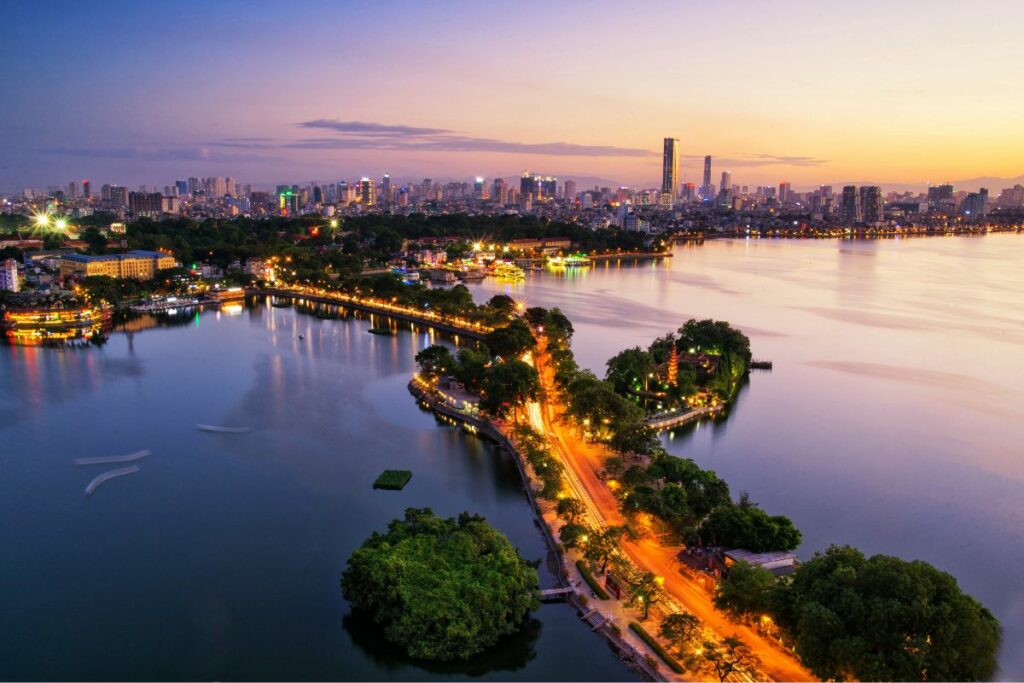 Here are the best hotspots we could find for remote workers in Vietnam.
Hanoi – The capital city, Hanoi, offers a blend of old-world charm and modern amenities. With loads of co-working spaces and an affordable cost of living, it's a dynamic hub for digital nomads. Nearby, the serene Ha Long Bay provides the perfect weekend getaway.
Ho Chi Minh City (Saigon) – As the business heart of Vietnam, Ho Chi Minh City has a thriving expat and digital nomads community. High-speed internet cafes, numerous events… It's a city that never sleeps and you will for sure enjoy its vibrant nightlife and rich history.
Da Nang – This coastal city will be great if you want to mix beautiful beaches and a laid-back vibe. Da Nang has become a favorite among digital nomads for its modern infrastructure and proximity to UNESCO heritage sites like Hoi An.
Hoi An – A picturesque town with historic architecture, lantern-lit streets and a serene riverside. Hoi An is not just a UNESCO World Heritage site, it's also a quiet haven for digital nomads who seek a slower pace and a tight-knit community.
Phu Quoc Island – This tropical paradise offers white sandy beaches and a growing number of resorts and co-working spaces. It's perfect for remote workers who want to combine work with leisure and it has all the resources you need as a digital nomad.
Are There Coworking Communities In Vietnam
If your dream is to settle in Southeast Asia, then you will absolutely love Vietnam's sense of community for remote workers.
Here are the best communities we could find there.
Hanoi
eSpace Coworking Hanoi is one of the best coworking spaces in Hanoi along with HanoiHub.
Not only do they offer a conducive environment for work, they also facilitate networking events, essential if you're looking for the perfect jobs for digital nomads.
Ho Chi Minh City
Metropolitan heart of Vietnam, Ho Chi Minh City is teeming with coworking communities.
Serepok and CirCO Hoang Dieu are amongst prominent spaces as they foster a community of creatives and tech-savvy professionals. It's an ideal spot for remote workers involved in tech, design and other online professions.
Da Nang
The coastal charm of Da Nang also boasts more and more coworking communities like Enouvo Space. Not just a workspace, it's a hub for innovation and collaboration.
Given the city's growing digital nomad population, it's a great location for professionals who seek both beach life and career growth.
Is Vietnam Safe For Digital Nomads ?
Overall, the country is pretty safe for foreigners, with low crime rates in major cities and tourist areas.
Stay cautious in crowded places where pickpocketing could be a concern.
Also, for more peace of mind, digital nomads are encouraged to invest in travel insurance.
Don't hesitate to compare SafetyWing and World Nomads, two comprehensive plans tailored to the needs of digital nomads in Southeast Asia and everywhere in the world.
Final Pros & Benefits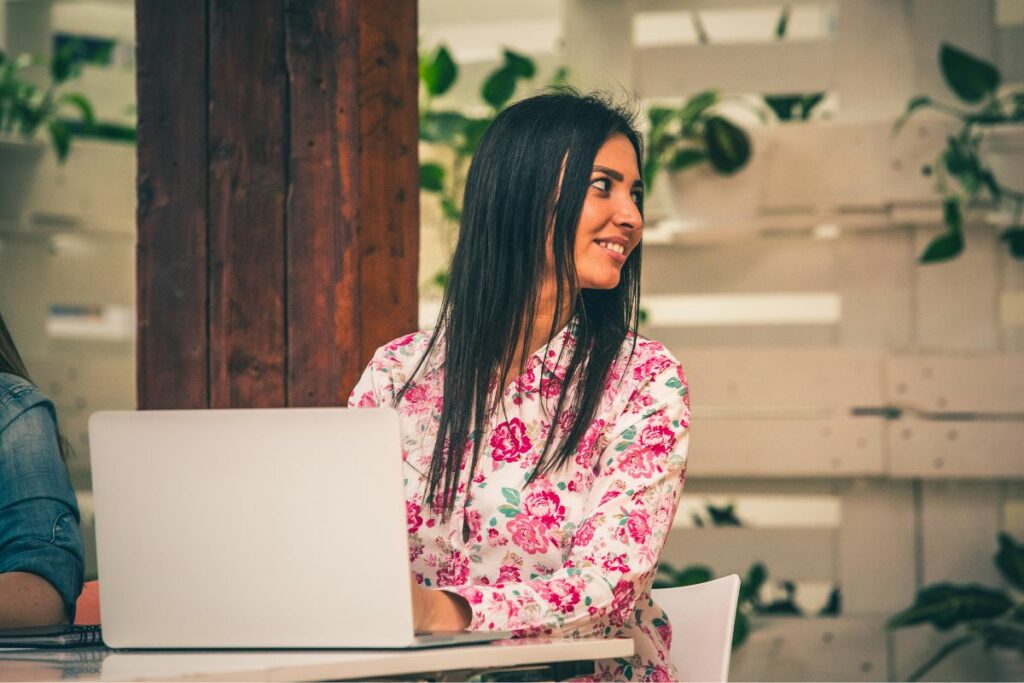 From the low cost of living to the diverse and breathtaking landscapes, every corner of Vietnam offers a unique experience.
The country's rich history and culture provide endless exploration opportunities. Also, you will for sure enjoy the local cuisine as well as the growing digital nomad community.
Finally, Vietnam's strategic location in Southeast Asia makes it an ideal springboard to explore neighboring countries !
Few Drawbacks To Have In Mind
The language barrier might sometimes be a problem in rural areas, but most Vietnamese speak English.
Also, reliable internet is never guaranteed, except in big cities.
Traffic, especially in Ho Chi Minh City and Hanoi, is often chaotic and might feel overwhelming if you're not used to it.
Lastly, the weather is extremely variable, with a rainy season that lasts for several months.
3 Alternative Countries With Similar Requirements We Recommend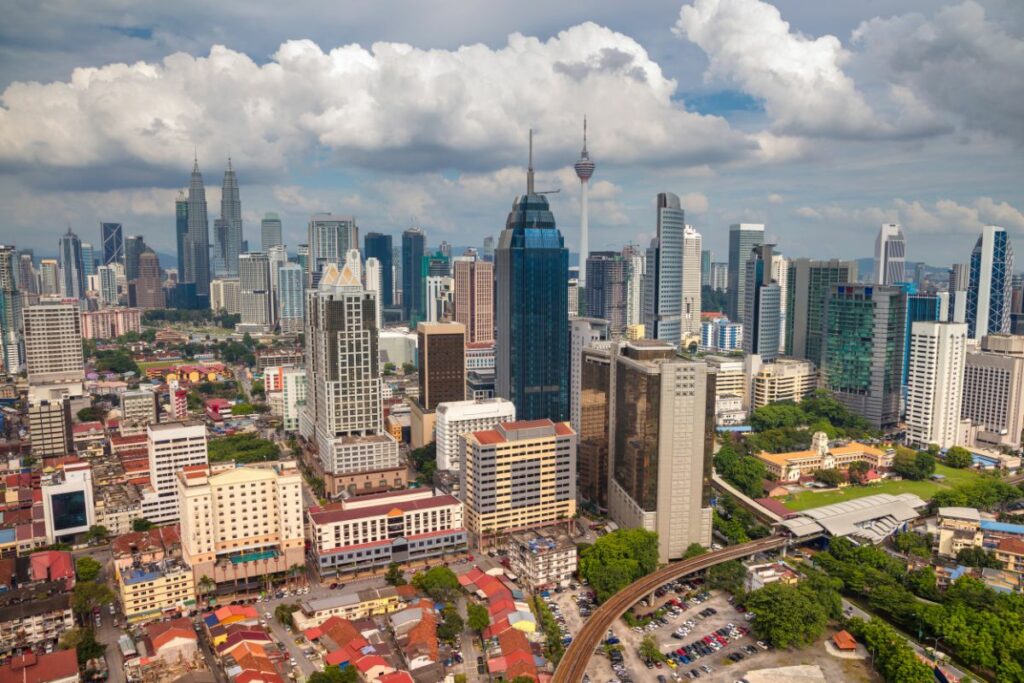 Not sure you want to become a digital nomad in Vietnam ? Some other southeast asian countries also offer great DN visas.
Malaysia
This top destination for expatriates and digital nomads boasts a mix of urban modernity and lush tropical landscapes.
Its Malaysia digital nomad visa is attractive for long-term stays and has about the same requirements. English is widely spoken, the cost of living is reasonable and the internet infrastructure is pretty strong.
Cambodia
Located right next to Vietnam, Cambodia offers a simple visa process for digital nomads.
With a low cost of living and growing expat communities, it is becoming a popular hotspot for digital nomads. From Siem Reap and Phnom Penh, you won't have any difficulty if you wish to visit Vietnam during your stay.
Turkey
A bit farther afield, Turkey serves as a bridge between Europe and Asia.
The country has been promoting its Residence Permit, which is quite easy to obtain. In Istanbul and Antalya, you will enjoy modern amenities as well as historic charm.
FAQs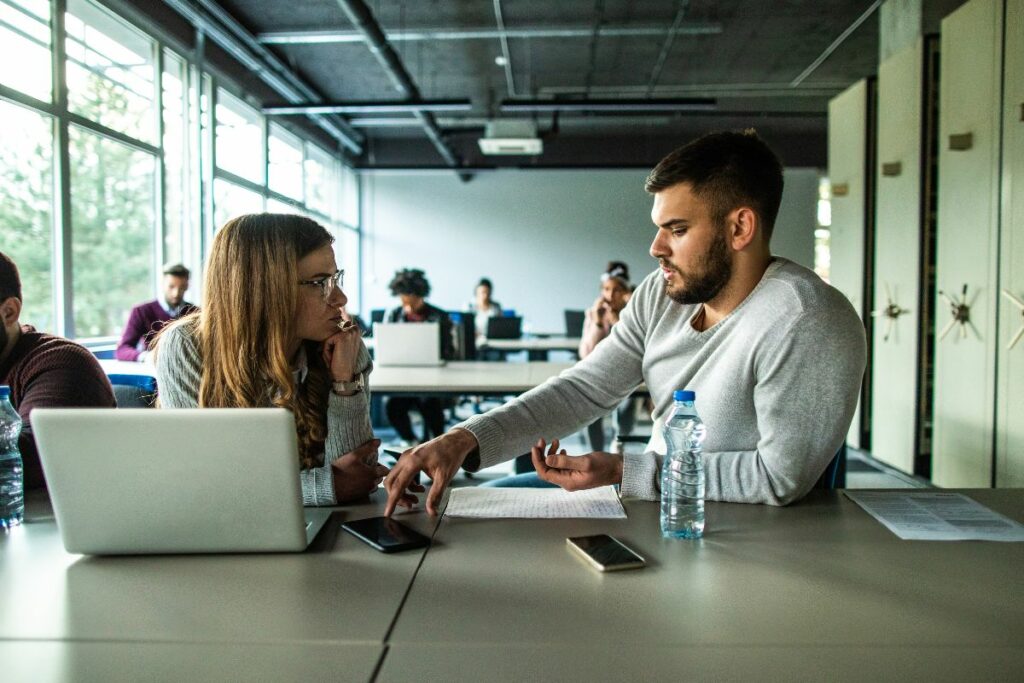 Can you extend your Vietnam digital nomad visa ?
Yes, it's possible to extend your visa, though processes vary based on visa type and duration.
Do I need a digital nomad visa to work remotely from Vietnam ?
No. Many digital nomads work on tourist visas but you must ensure you adhere to its conditions.
Do I pay taxes in Vietnam as a digital nomad ?
Vietnam imposes a Personal Income Tax (PIT) on residents and non-residents based on their worldwide income and Vietnam-sourced income.
What to pack when traveling to Vietnam as a digital nomad ?
Pack light clothes, essential tech gear, adaptors and mosquito repellent.
How much does it cost to live in Vietnam as a digital nomad ?
Depending on lifestyle and location, living costs usually range from $600 to $1500 monthly.
How long can I live in Vietnam without a visa ?
This varies by nationality ; some can stay 14-30 days visa-free, while others need a visa upon entry.
Can I work in Vietnam on a tourist visa ?
It is technically prohibited, but many digital nomads work remotely without local engagements.
Wrap Up
With its diverse visa options, coworking spaces in urban hubs and affordable cost of living, it's hard not to see the appeal in Vietnam DN visa.
Of course, as with any move abroad, make sure you understand the legal intricacies and are culturally informed to make the most of your experience !