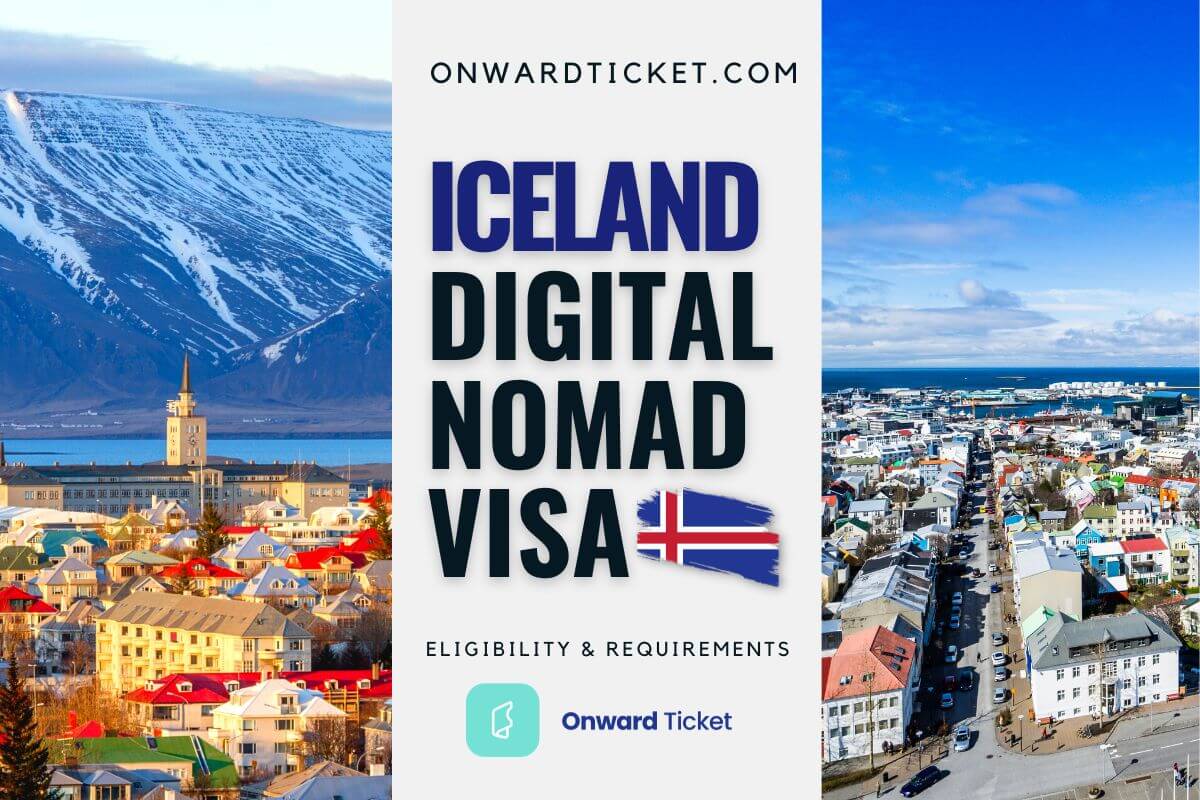 A new horizon has opened to digital nomads thanks to Iceland digital nomad visa.
Through the country's long-term remote work visa, go immerse yourself in the allure of glaciers, northern lights and welcoming culture, all of this while maintaining your professional commitments !
The digital nomad visa Iceland allows non-EU/EEA/EFTA residents to live and work remotely in Iceland for up to six months.
Look out the requirements and the benefits, and start your application today !
Iceland Digital Nomad Visa – Key Points Explained
The digital nomad visa for Iceland is a transformative opportunity if you're seeking a unique and scenic workspace.
Initiated in 2020, this visa lets you reside and operate remotely in Iceland for about six months. Note that this permit allows you to work for a foreign employer outside Iceland or are self-employed.
However, it prohibits seeking employment within Iceland for local employers – for this, you'd need an Iceland work visa or an EU Blue Card.
The Digital Nomad Visa Iceland now allows eligible non-EU/EEA/EFTA citizens with a monthly salary of 1 000 000 ISK (approximately $7550 / 6900 €) to experience the country's majestic landscapes.
Is It Hard To Get Digital Nomad Visa For Iceland ?
Compared to other countries offering similar programs, you should have no difficulty securing a Digital nomad visa for Iceland.
Provided you meet the outlined income requirements and submit the necessary documents, your chances of acceptance are promising.
The process may appear complex, but when compared to the lengthier and more bureaucratic procedures in other nations, Iceland's application is quite streamlined.
To grasp a broader context, visit our comprehensive guide on countries offering digital nomad visas.
Digital Nomad Visa Iceland Types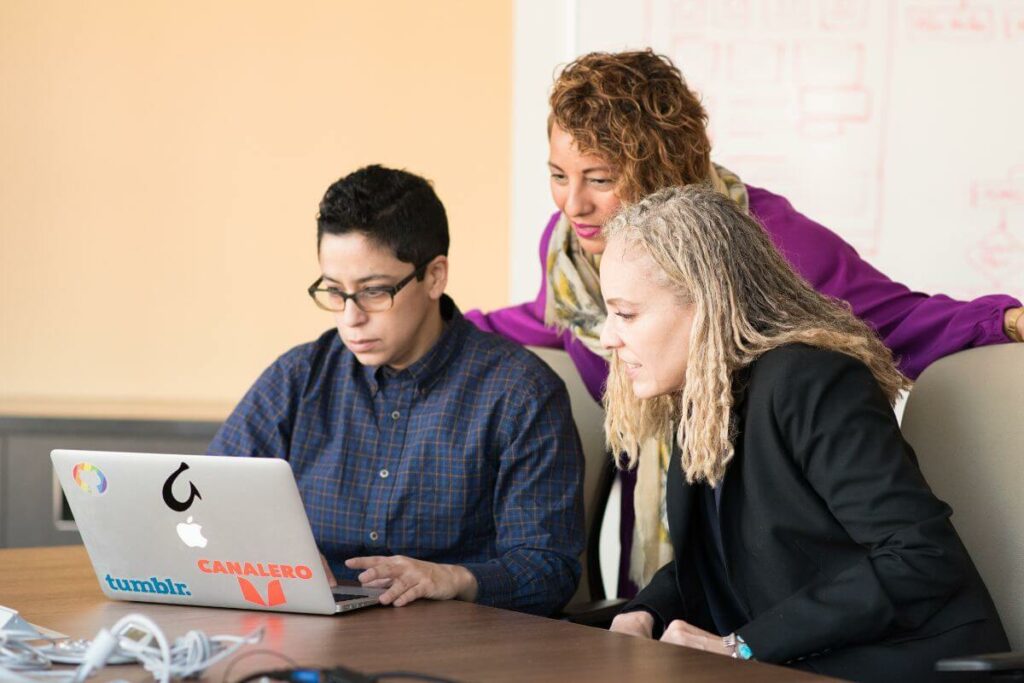 The Icelandic government provides different types of work visas to cater to diverse needs.
The Iceland Remote Work Visa and the Iceland Freelance Visa both cater to people working for foreign employers or self-employed.
The Iceland Work Visa, on the other hand, is suitable if you're seeking employment within the country.
For US citizens pondering how to immigrate to Iceland from US, these visas offer interesting options.
Keep in mind that the Visa for Iceland differs based on your intent and duration of stay, with separate options for short-term travel and long-term stays.
Remember to check your eligibility for any Visa Iceland USA before you initiate your application process.
Iceland Digital Nomad Visa Requirements & Eligibility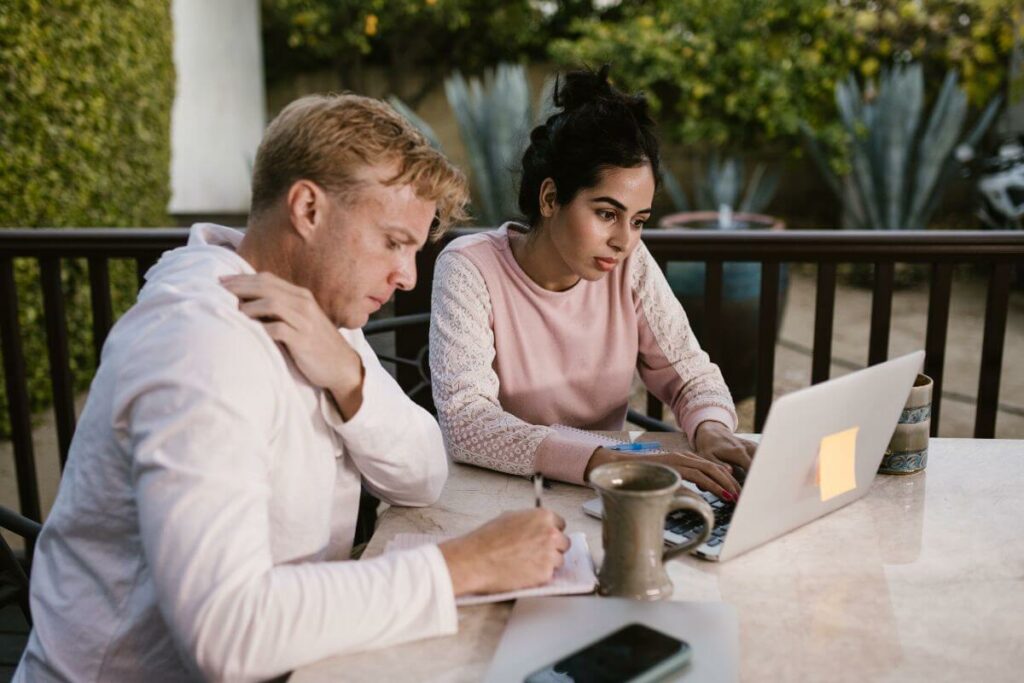 To qualify for the Iceland digital nomad visa, you must meet specific eligibility criteria.
Here's a closer look at the requirements :
Nationality and visa-free agreement : only citizens of non-EU/EEA/EFTA countries are eligible. Furthermore, your country must have a visa-free travel agreement with Iceland.
Previous visa applications : if you've been issued another long-term visa by Icelandic authorities in the past year, you won't be eligible to apply for the digital nomad visa.
Purpose of stay and work status : you must demonstrate that your purpose of stay is to work remotely. This work should be either as an employee of a foreign company or self-employed. You will have to show that you have no intention of settling in Iceland permanently.
Financial stability : this is probably the requirement the most difficult to reach : you have to prove a stable foreign income. For individual applicants, a monthly income of 1 000 000 ISK (approximately $7550 / 6900 €) is needed. In cases where a spouse or cohabiting partner is also applying, this amount rises to 1 300 000 ISK (approximately $9830 / 9000 €) per month.
Iceland Remote Work Visa Income Requirements
The Icelandic digital nomad visa has stringent income requirements to ensure that digital nomads can support themselves during their stay.
You must show you have a stable foreign income. For individuals, a monthly income of 1 000 000 ISK (approximately $7550 / 6900 €) is needed.
In cases where a spouse or cohabiting partner is also applying, this amount rises to 1 300 000 ISK (approximately $9830 / 9000 €) per month.
A critical point to note is that this income should be maintained throughout your stay in Iceland. If your income drops while in the country, you may risk losing your visa status.
Apply For Digital Nomad Visa for Iceland With These Documents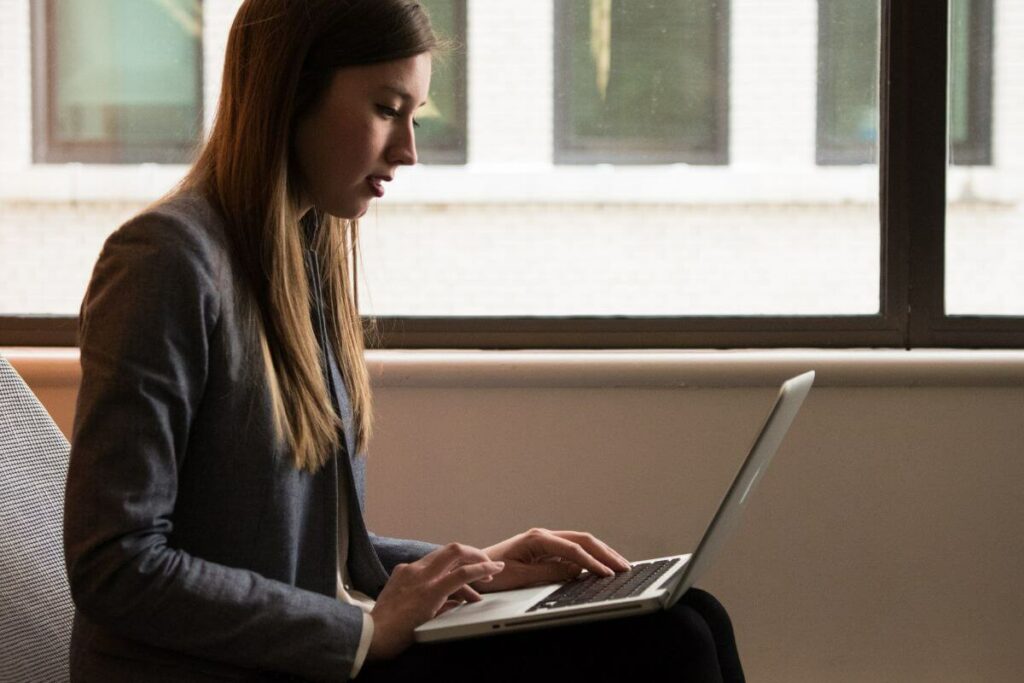 To apply for the Icelandic digital nomad visa, you'll need to gather and prepare all the necessary documents :
Valid passport : your passport should be valid for at least three months beyond your planned stay in Iceland.
Remote work visa application form : download and fill out this paper form electronically from the official Icelandic government website.
Proof of visa payment : a receipt confirming payment of the required fee.
Passport photo : must follow Schengen countries visa passport photo requirements and should not be older than six months.
Birth certificate custody documents and other supporting documents if you bring your child.
Health insurance policy : valid proof of your health insurance coverage that covers your stay in Iceland. We recommend full medical insurance.
Proof of remote work : additional documents showing you'll be working remotely, either as a self-employed individual or for a foreign employer.
Proof of stable income : documentation showing a monthly income of around 1 000 000 ISK (approximately $7550 / 6900 €).
Payment receipt.
Clean criminal record certificate.
Iceland Digital Nomad Visa Application Process Step By Step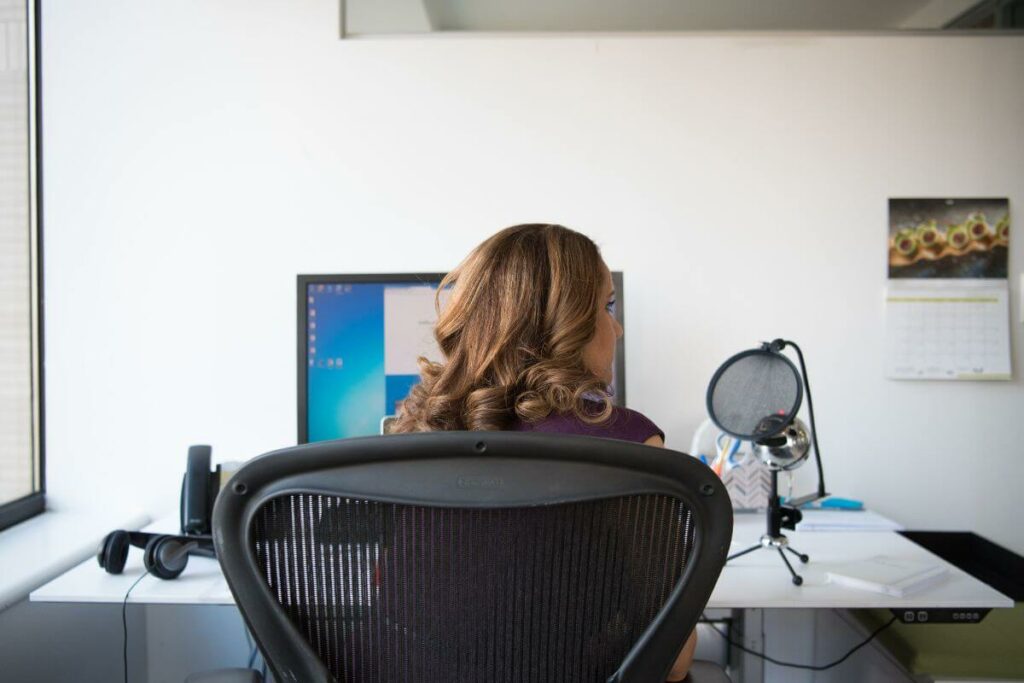 Here's a step-by-step guide on how to go about the Iceland digital nomad visa application process :
Check your eligibility : ensure you meet all the requirements outlined in the above section.
Gather the following documents, including your passport, application form and proof of stable income.
Complete the application form : download the application form from the official Icelandic government website and fill it out electronically.
Pay the application fee : ensure you keep the payment receipt as proof.
Submit your application : once you've completed the form and gathered your documents, submit your application. You may need to schedule an appointment at the embassy or consulate depending on your location.
Await approval : the processing time can vary. We would advise you to apply well ahead of your planned travel dates.
Visa approval : if approved, make sure to verify your Iceland digital nomad visa's validity dates and conditions.
Plan your trip : once you've obtained your visa, you can plan your journey to Iceland !
Renewal Process Digital Nomad Visas In Iceland
The Iceland digital nomad visa does not have a direct renewal process. Upon the expiration of your current visa, you are not able to extend it for a longer stay.
However, after a twelve-month period, you are eligible to re-apply for the visa. Make sure to follow the same application process and meet the requirements !
How Long Is Digital Nomad Visa For Iceland Valid For ?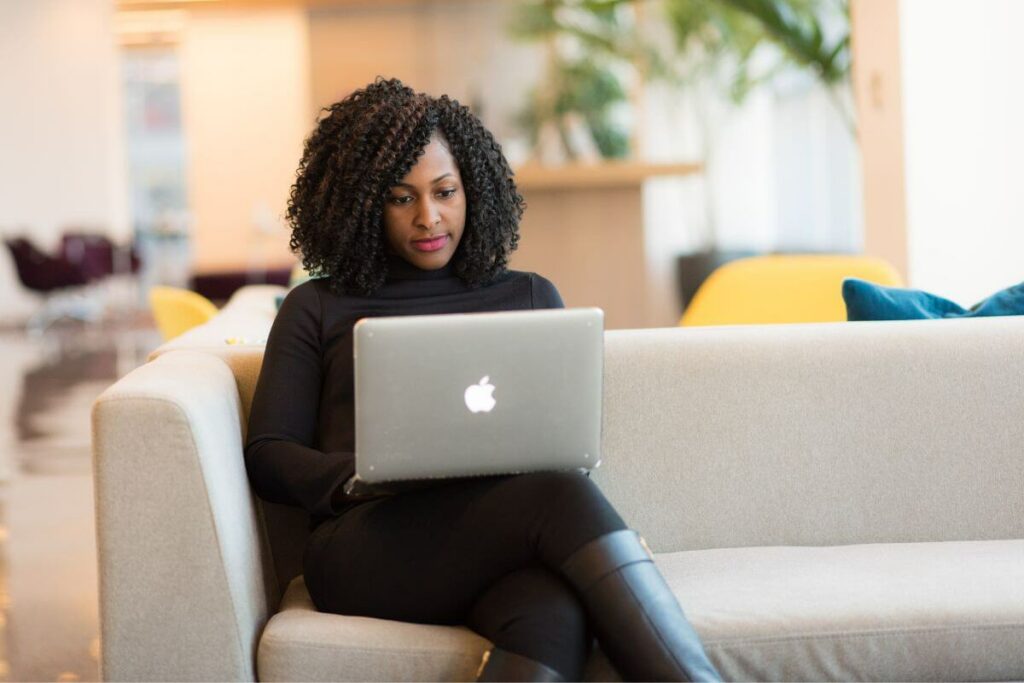 The validity of the Iceland digital nomad visa depends on your situation :
If you apply from your home country and await the visa decision before entering Iceland, your visa can be valid for approximately 180 days. This gives you half a year of unrestricted work and travel within the country.
If you apply from your home country but enter any Schengen country before the visa decision is made, your visa will still be issued for 180 days. However, the days you spent in the other Schengen country will be deducted from this period.
Lastly, if you apply from within the Schengen area, your visa is usually issued for about 90 days. This allows for a shorter, but still substantial, period to enjoy Iceland while working remotely.
Cost Of Digital Nomad Visa Iceland
The non-refundable application fee for each applicant is 12 200 ISK, which roughly equates to $92, or 85 €.
This cost is the same for all applicants, whether they're primary applicants or accompanying family members like a spouse or children.
You can pay via a bank transfer. Please bear in mind that this fee only covers the visa application process and doesn't include any other costs you might incur while preparing your application.
Iceland Digital Nomad Visa Tax To Expect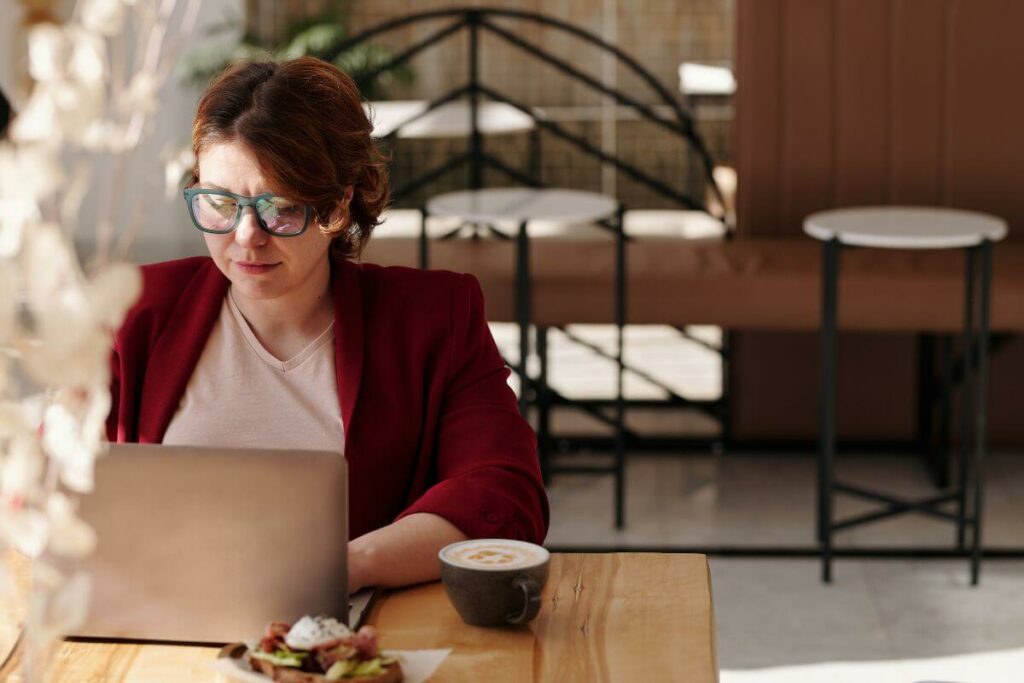 An attractive feature of the Iceland digital nomad visa for remote workers is the tax exemption that comes with it.
As a digital nomad in Iceland, you aren't required to pay taxes to the Icelandic government on the income you earn while working remotely. This can be a substantial advantage !
But please remember that this doesn't exempt you from any tax obligations in your home country…
How Long You Wait To Get Digital Nomad Visa For Iceland
After submitting your application for the Iceland digital nomad visa, you should be prepared for a waiting period.
This usually takes around 90 days, but it can vary depending on the time of the year or the volume of applications being processed. Remember, patience is key during this process !
Bringing Family With You
Yes, you can bring your close family members along with you under the Iceland digital nomad visa.
This visa program allows your spouse and children to accompany you on your adventure and grants them the same duration of stay as you.
But if they intend to work remotely as well, they must meet the same income requirements and obtain their own visa.
Cost Of Living In Iceland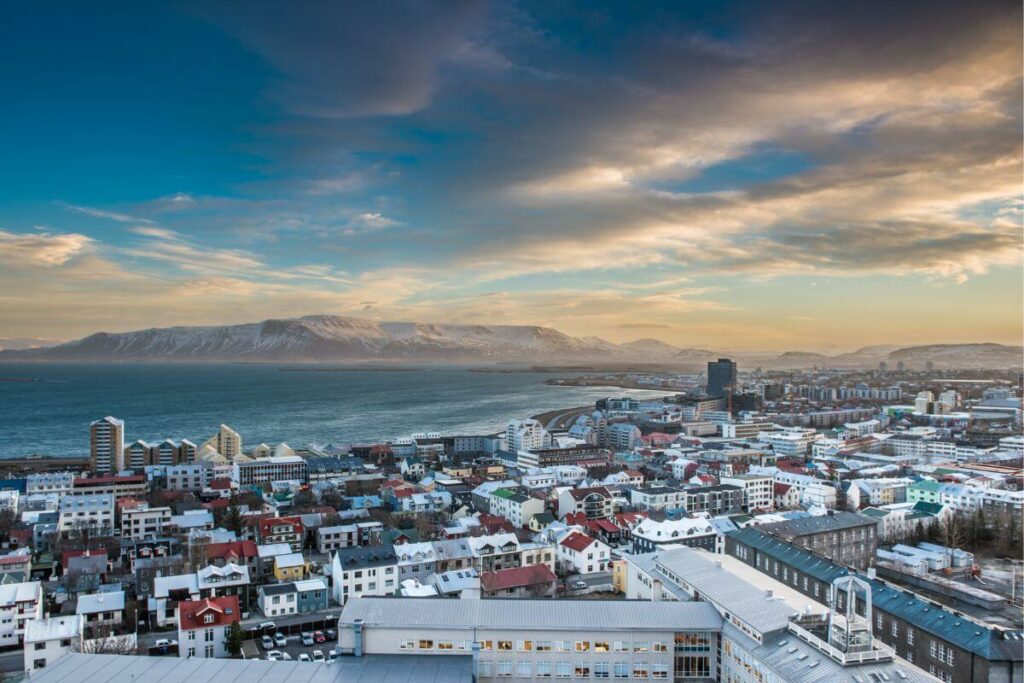 The cost of living in Iceland is considerably high compared to other countries.
A combination of factors (remote location, harsh climate and high wages) contribute to this.
Here are some examples of what to expect to pay during your Icelandic stay.
| Accommodation | Cost |
| --- | --- |
| Rent | Around 1200 € / $1320 |
| Buy | From 100000 € / From $110000 |
| Hotels | 150 to 200 € / $165 to $220 |
| BnB | 100 to 150 € / $110 to $165 |
| Food | Cost |
| --- | --- |
| Restaurant | 50 to 80 € / $55 to $88 |
| Groceries | Around 300 € / $330 /month/pers |
| Fast Food | 10 to 12 € / $11 to $13 |
| Transports | Cost |
| --- | --- |
| Bus | Around 3 € / $3,30 per trip |
| Taxi | Around 4 € / $4,50 per km |
| Car rental | 40 to 70 € / $44 to $77 per day |
| Leisure | Cost |
| --- | --- |
| Day excursion | 70 to 100 € / $77 to $110 |
| Nightlife | 30 to 50 € / $33 to $55 |
| Museum / attractions | 2 to 10 € / $2,2 to $11 |
| Outdoor activities | 20 to 60 € / $22 to $66 |
You can also check the Cost of Living in Iceland here.
Is There Digital Banking In Iceland
Absolutely, digital banking is widely available in Iceland.
The Icelandic banking system is quite advanced and offers numerous services :
online banking
mobile banking apps
online bank transfer and contactless payment methods
Iceland is also one of the countries with the highest percentage of cashless transactions in the world.
Banks like Landsbankinn, Arion Banki and Íslandsbanki provide comprehensive online platforms and mobile applications.
Which VPN Works Best In Iceland For Digital Nomads ?
Remote workers may want to consider a Virtual Private Network (VPN) for secure, anonymous and unrestricted internet access.
Two VPNs that perform well in Iceland are ExpressVPN and NordVPN.
ExpressVPN is known for its impressive speed and robust security features. With over 3000 servers in 94 countries, it offers great global coverage.
On the other hand, NordVPN is widely praised for its advanced security protocols and extensive server network. It boasts over 5200 servers in 59 countries and also offers dedicated IP options.
Popular Digital Nomad Hotspots (Cities) In Iceland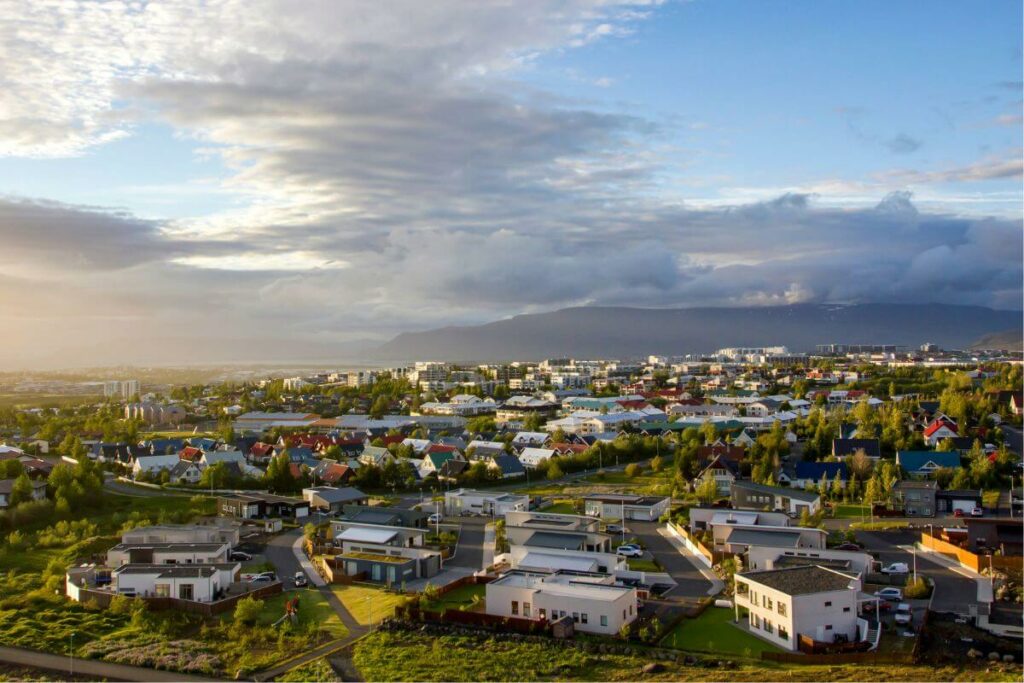 Iceland boasts several popular hotspots for people traveling under the Iceland digital nomad visa :
Reykjavik – The capital and the largest city of Iceland is a natural choice for many digital nomads. The city offers a blend of rich culture, lively nightlife and an impressive array of co-working spaces and coffee shops. It also has reliable high-speed internet connection and proximity to various outdoor activities.
Akureyri – Known as the "Capital of North Iceland", Akureyri offers a less bustling, yet equally vibrant alternative to Reykjavik. The city has a compact downtown area filled with restaurants, shops and cozy cafes, perfect for working remotely. Akureyri also boasts close access to some of the country's most stunning landscapes.
Ísafjörður – Located in the Westfjords region, Ísafjörður is perfect for remote workers seeking tranquility and natural beauty. The small town offers an intimate community vibe and opportunities for outdoor activities (hiking, kayaking, etc.).
Vestmannaeyjar – This archipelago off the southern coast of Iceland, also known as the Westman Islands, is another gem for remote workers. The main island, Heimaey, offers a relaxed pace of life and a range of outdoor adventures.
Are There Coworking Communities In Iceland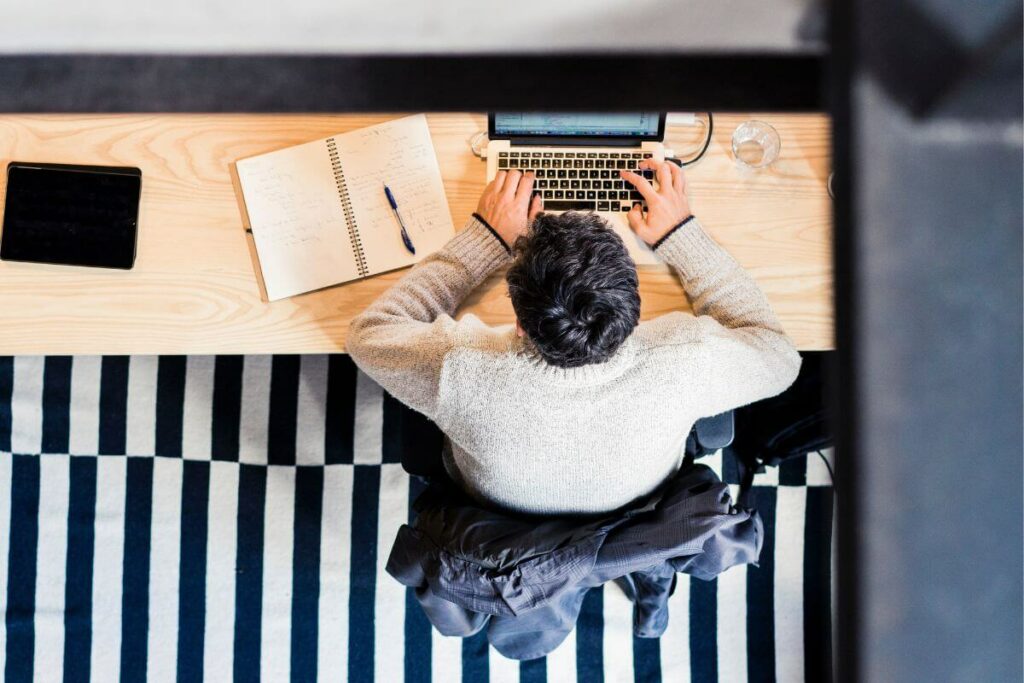 Absolutely, Iceland has embraced the digital nomad lifestyle and has several coworking communities, especially in its larger cities.
Reykjavik
As the capital city, Reykjavik is a hub for digital nomads. With coworking spaces like Reon Coworking and Innovation Regus Reykjavik, it caters perfectly to remote workers !
Digital marketing professionals, content creators or freelance writers, to name a few, will enjoy the city's vibrant atmosphere while working.
Akureyri
Akureyri is no stranger to the digital nomad trend.
The Innovation House here provides state-of-the-art facilities for digital professionals. It's particularly suitable for IT consultants, software developers or virtual assistants.
Kópavogur
Located just south of Reykjavik, Kópavogur houses Business Center Iceland, a well-equipped coworking space.
E-commerce experts, web developers or online teaching professionals will thrive amidst the town's scenic backdrop.
Is Iceland Safe For Digital Nomads ?
Good news : Iceland ranks as one of the safest countries in the world !
The Icelandic remote work visa will allow you to enjoy a low crime rate and a friendly local community. However, you should always prepare for unpredictable circumstances (health issues, travel disruptions, etc.) as those things can happen anywhere.
That's where travel insurance comes in. Two popular options for digital nomads are SafetyWing and World Nomads. Each provides different coverage options, so it's worth comparing to find the best fit for your needs.
Final Pros & Benefits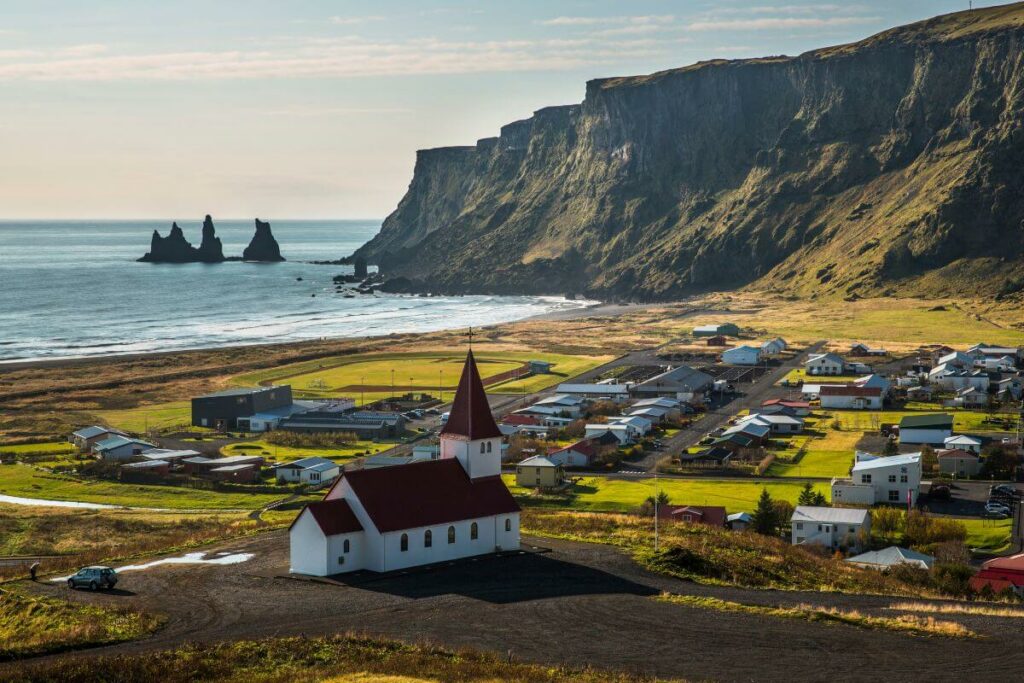 The Iceland visa comes with numerous benefits that make it a great choice for any remote worker.
The country offers a striking landscape, a high standard of living and the opportunity to be a part of a safe and friendly community.
As a digital nomad, you get the privilege of experiencing a unique culture, and the calmness and serenity of Iceland can boost your creativity and productivity.
Iceland also offers a significant advantage in terms of tax exemption for digital nomads.
Few Drawbacks To Have In Mind
The high cost of living in Iceland will probably be a challenge.
Everything from accommodation, food, transportation and leisure activities will be significantly pricier compared to most other digital nomad destinations.
Also, the harsh weather, especially during winter, might not be appealing. Short daylight hours and cold temperatures may affect your overall mood and productivity…
And even though the country is technologically advanced, remote areas might still have limited internet connectivity.
3 Alternative Countries With Similar Requirements We Recommend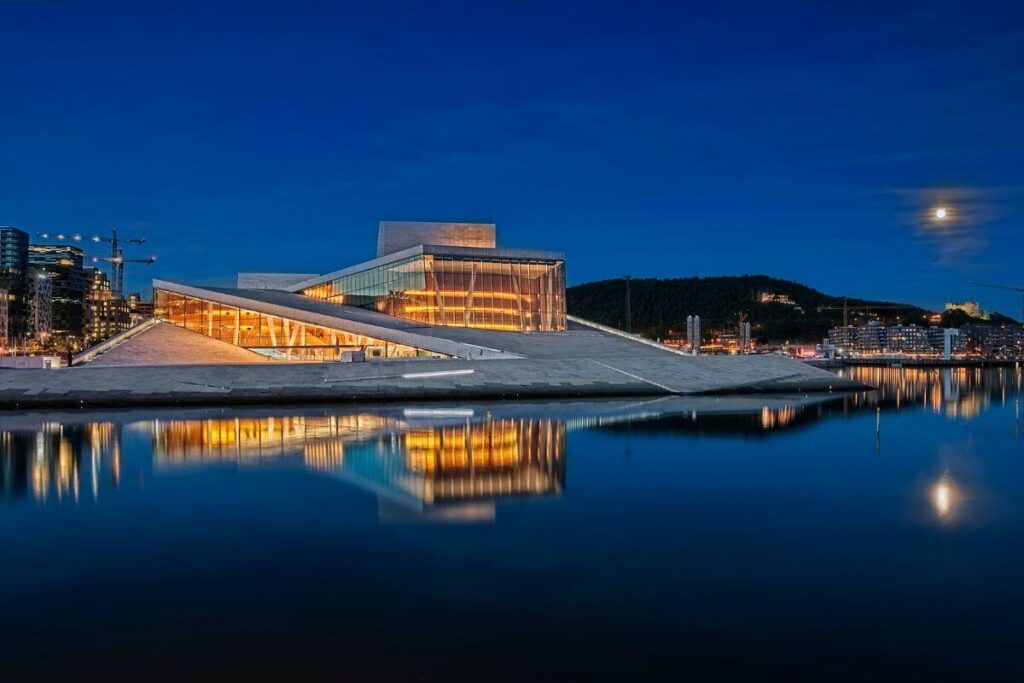 Not 100 % convinced by the Icelandic visa ?
There are a lot of other European countries you may consider as an alternative to Iceland's temporary residence permit.
Norway
Just across the North Sea from Iceland, Norway freelance visa is another great option for digital nomads. It offers strong internet connectivity, striking natural landscapes,and a high standard of living.
Plus, Norway has a rich cultural heritage, and digital nomads often appreciate the friendly locals and efficient public services.
Hungary
Though further afield, the digital nomad visa for Hungary has been growing in popularity.
The country's capital, Budapest, comes with affordable living costs, large expat community and countless historical landmarks. There you will find numerous coworking spaces and a generally stable internet connection.
Georgia
At the intersection of Europe and Asia, Georgia's digital nomad visa has been actively attracting digital nomads with the country's affordable cost of living and large number of coworking spaces, useful if you're a remote worker or self-employed.
FAQ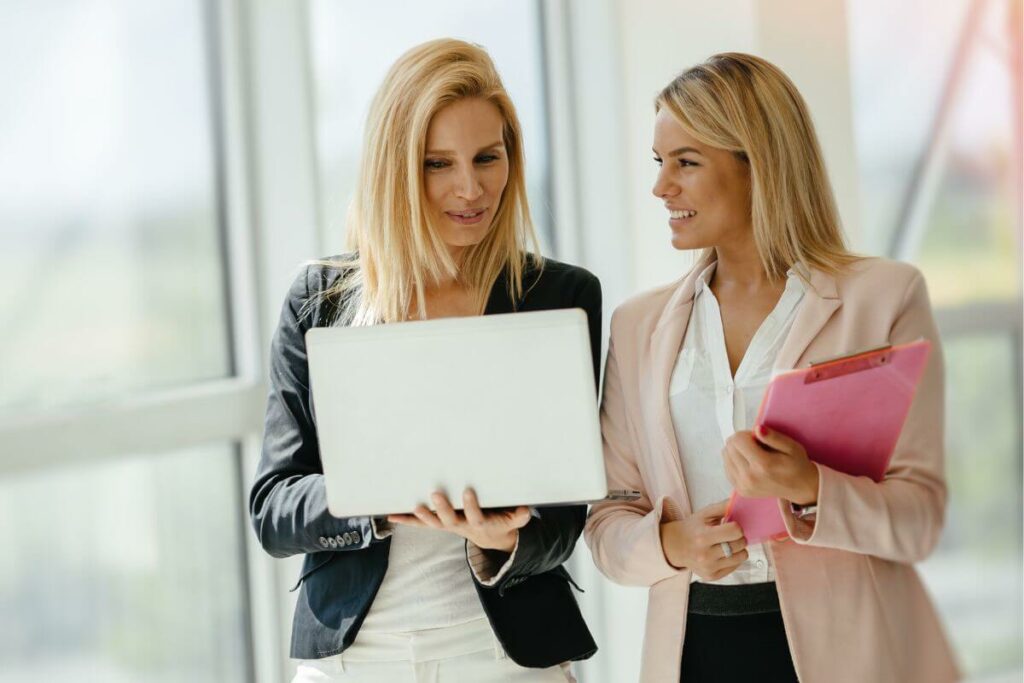 What is the lowest income requirement for Iceland digital nomad visa ?
The minimum monthly salary requested to enter Iceland as a digital nomad visa is 1 000 000 ISK (approximately $7550 / 6900 €).
Can a US citizen work as a digital nomad in Iceland ?
Yes, US citizens can work remotely in Iceland under the digital nomad visa, provided they meet the eligibility criteria.
Can the Iceland Digital Nomad Visa Lead to Permanent Residency or Citizenship ?
No, the Iceland Digital Nomad Visa does not lead to permanent residency or citizenship.
Can digital nomads extend stay in Iceland ?
No, the Iceland digital nomad visa cannot be extended as it is not a long term visa. However, one can reapply after twelve months of leaving the country.
Can I apply for the Iceland Digital Nomad Visa if I am from an EU/EEA/EFTA country ?
No, individuals from EU/EEA/EFTA countries do not need a visa to stay and work in Iceland.
Can I apply for the Iceland Digital Nomad Visa if I already have a long-term visa for Iceland ?
Yes, as long as you meet the eligibility criteria and your current long-term visa does not contradict the terms of the digital nomad visa.
Can I bring my family with me on the Iceland Digital Nomad Visa ?
Yes, you can bring your family on the Iceland Digital Nomad Visa, but each family member must apply separately.
Can I work for an Icelandic company while on the Iceland Digital Nomad Visa ?
No, Iceland's digital nomad visa only allows you to work for a foreign employer or as a freelancer for clients outside Iceland.
What happens if my Iceland Digital Nomad Visa application is rejected ?
If your application is rejected, you can reapply with improved documentation or appeal the decision within 15 days.
Do I need to speak Icelandic to apply for the Iceland Digital Nomad Visa ?
No, you do not need to speak Icelandic to apply for the Iceland Digital Nomad Visa. The application can be completed in English.
Wrap Up
The Icelandic residence and work permit offers a great opportunity to enter Iceland.
The inclusion of family members and Iceland's beautiful landscapes, coupled with coworking communities and the safety of the country, create a strong allure.
We only regret the fact that the visa is reserved for high salaries. The income requirement will indeed be difficult to reach for most…