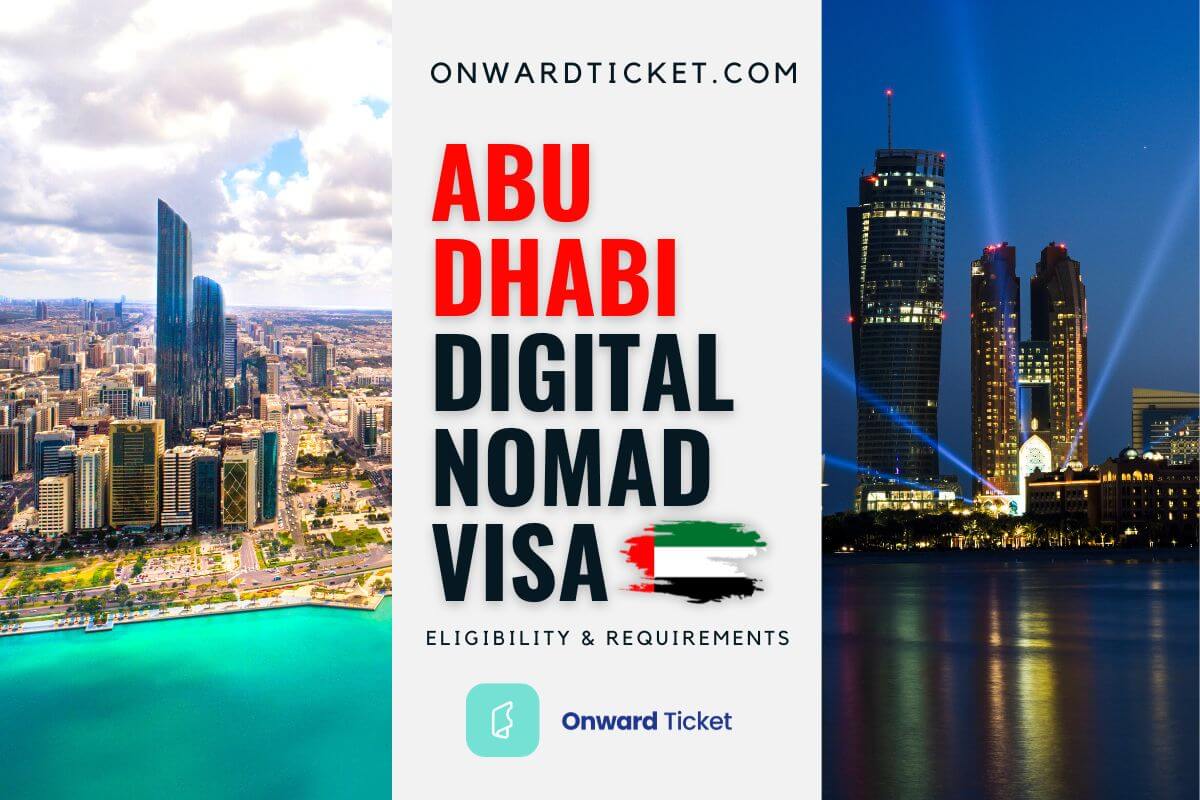 Abu Dhabi's emergence as a hotspot for digital nomads has been solidified with the introduction of the Abu Dhabi digital nomad visa.
This visa, distinct from Dubai's version, grants digital professionals the opportunity to live and work in the capital city's relaxed ambiance, superior beaches and iconic attractions like the Louvre Museum.
As the epicenter of UAE's governance and known for its lavish skyline, Abu Dhabi offers a harmonious blend of tradition and modernity.
Let's have a look at Abu Dhabi's Digital Nomad Visa specificities.
Abu Dhabi Digital Nomad Visa – Key Points Explained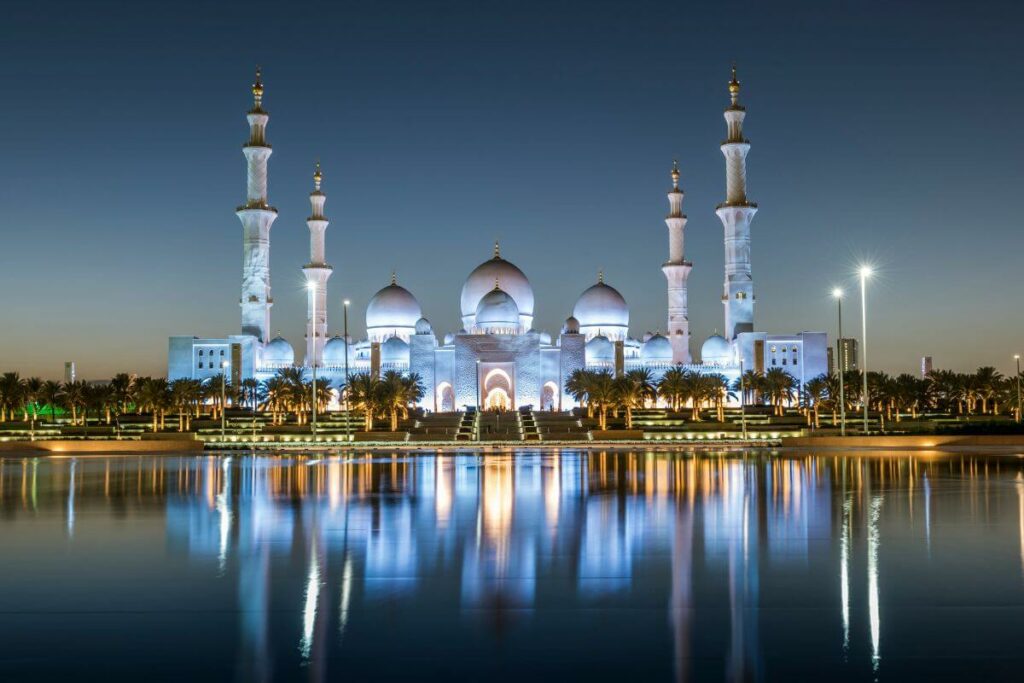 The Abu Dhabi digital nomad visa is an attractive initiative introduced by the UAE to cater to the remote workers needs.
Launched in 2021, this UAE digital nomad visa serves as a residence permit and allows digital nomads to both live and operate their remote businesses in the Emirate for up to two years.
Applicants should be at least 18 years old and possess a passport that remains valid for six months from their UAE arrival date.
Essential requirements also include having valid health insurance and demonstrating a consistent monthly income of at least $3500 (3300 €).
Please note UAE's digital nomad visa doesn't authorize employment with local UAE companies.
Is It Hard To Get Digital Nomad Visa For Abu Dhabi ?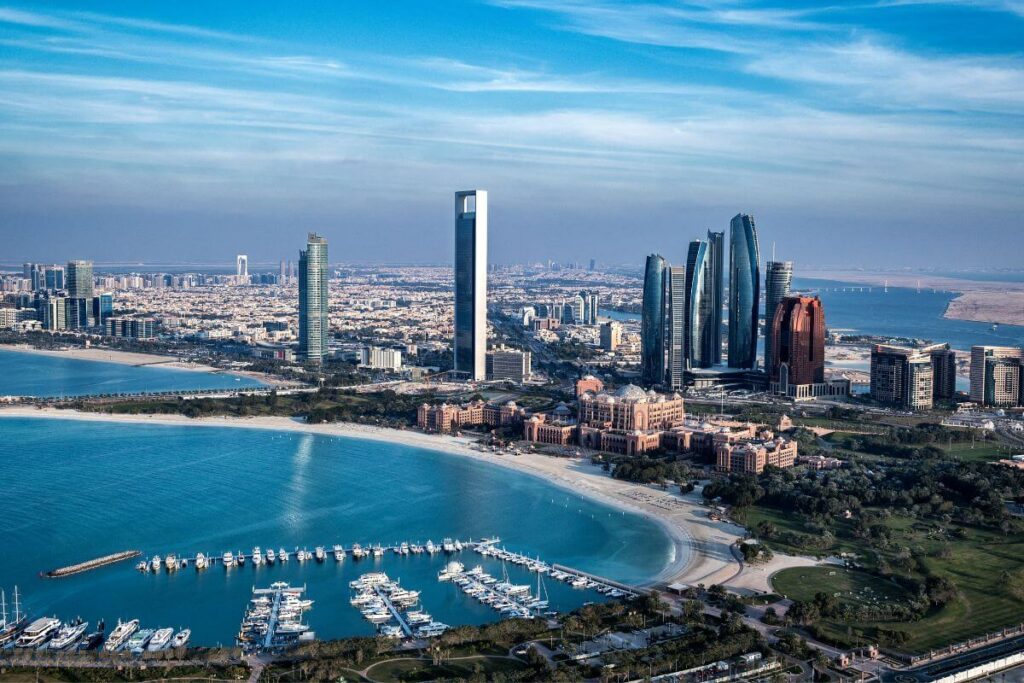 Obtaining a digital nomad Abu Dhabi visa is a little challenging at first glance, especially when comparing it to other countries with digital nomad visas.
The requirements are straightforward, yes, but the minimum income threshold is pretty high, even if it's lower than Dubai's.
But if you're considering working remotely from Abu Dhabi and you meet all the requirements, then the Abu Dhabi remote work visa is actually quite easily reachable.
Digital Nomad Visa Abu Dhabi Types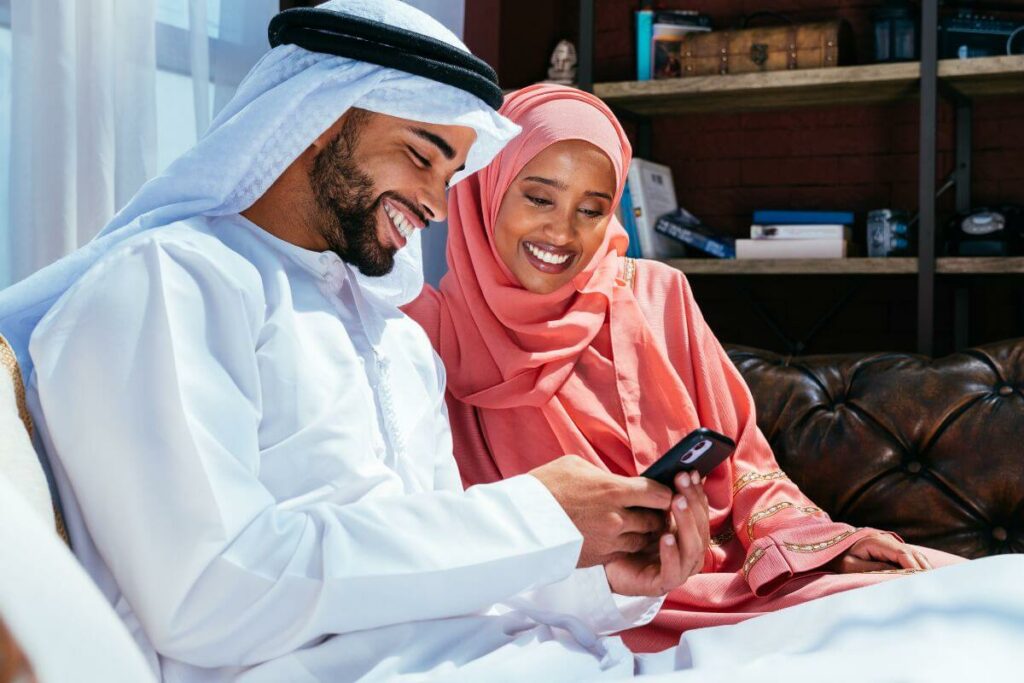 Here are the different types of visas available for Abu Dhabi :
Abu Dhabi remote work visa : specifically crafted for individuals who earn their living online and want to reside in Abu Dhabi, the digital nomad visa Abu Dhabi allows them to live and work from the Emirate without being physically employed within the UAE.
Business Exploration Entry Visa : while not specifically tailored for digital nomads, this visa is designed for entrepreneurs and business professionals exploring opportunities in the UAE. If you have an entrepreneurial edge and are keen on exploring Abu Dhabi's business ecosystem, this visa might be interesting. It allows a short-term stay of up to 90 days.
Golden Visa : the Golden Visa is an extended residency visa that grants its holders a longer stay in the UAE. It's issued to investors, entrepreneurs and individuals with specialized skills or talents. This visa not only provides a longer residency tenure but also offers added benefits in terms of business operations and investments.
Green Visa : another recent addition to Abu Dhabi's visa portfolio is the Green Visa, aimed at attracting professionals in high-demand sectors, researchers and innovators. A good option if you have specialized skills or work on innovative projects.
As you can see, there are multiple options if you wish to live and work in Abu Dhabi. Don't hesitate to read our article to understand better what a digital nomad visa exactly is.
Abu Dhabi Digital Nomad Visa Requirements & Eligibility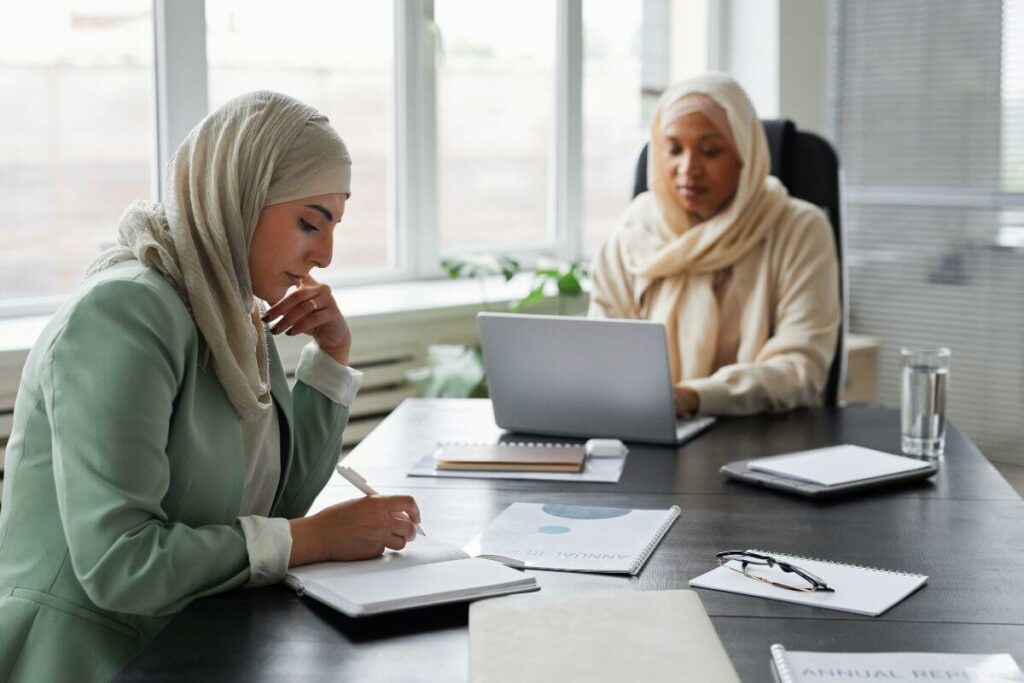 Do you wish to remote work from Abu Dhabi ? Then you absolutely have to understand the visa requirements and eligibility.
Here's a comprehensive breakdown to the UAE digital nomad visa requirements :
Affiliation with a foreign company : you must be engaged with an entity that's based outside the UAE and supports the concept of remote work.
Stable monthly earnings : an average monthly income, not less than $3500, is non-negotiable.This threshold is lower compared to the $5000 required for Dubai's counterpart visa.
Health insurance coverage : you must have a health insurance valid throughout the tenure of your stay in Abu Dhabi. This medical insurance ensures that you're covered for any medical exigencies during your residence.
Authenticity of remote work : you have to provide evidence that you genuinely work remotely for an organization outside the UAE. This aligns with the visa's purpose and confirms you won't be seeking local employment.
Abu Dhabi Remote Work Visa Income Requirements
Essential to obtain the Abu Dhabi digital nomad visa is the demonstration of consistent and sufficient income.
You must exhibit a monthly income not less than $3500 to reassure you can sustain your lifestyle in Abu Dhabi without becoming a burden to local resources.
Good news, this requirement is more lenient than some other emirates like Dubai, where the monthly proof of income asked is $5000.
Apply For Abu Dhabi Digital Nomad Visa With These Documents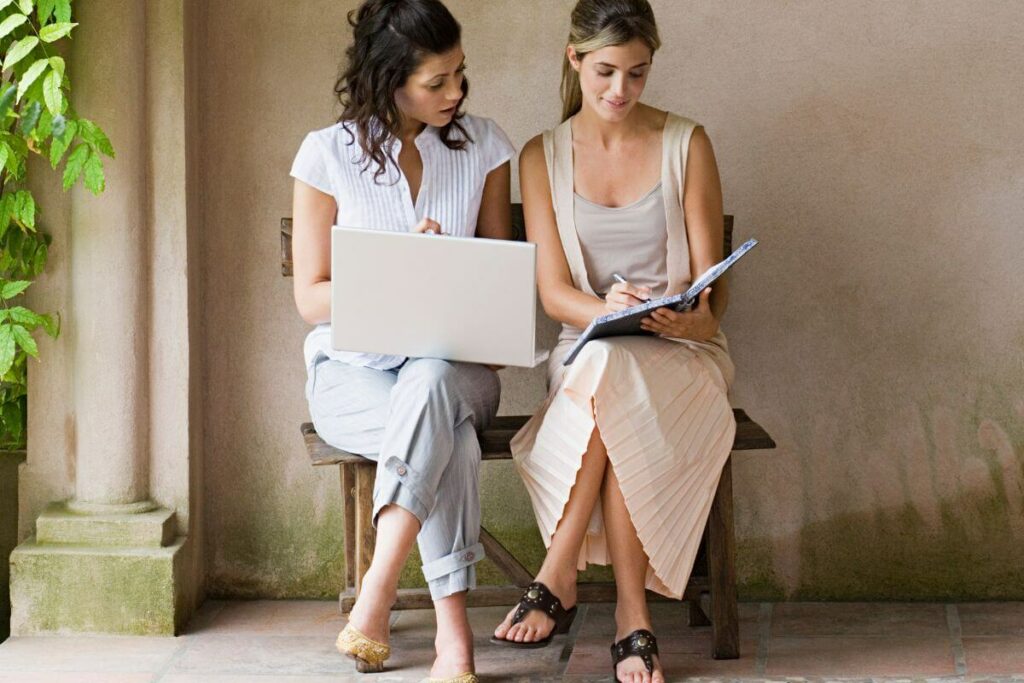 Going as a digital nomad in Abu Dhabi requires proper documentation to ensure you will obtain your remote work visa.
To qualify for the digital nomad visa Abu Dhabi, you must furnish the following documents :
Valid passport : ensure it has at least six months of validity from the intended date of application.
Completed online application form with accurate information.
Medical insurance : a comprehensive policy that covers your duration of stay in Abu Dhabi.
Proof of remote work : a contract or letter of employment confirming you work for a company outside the UAE.
Passport sized photos.
Proof of monthly income : like a recent salary slip and three months' bank statements to demonstrate a minimum monthly income of $3500.
Abu Dhabi Digital Nomad Visa Application Process Step By Step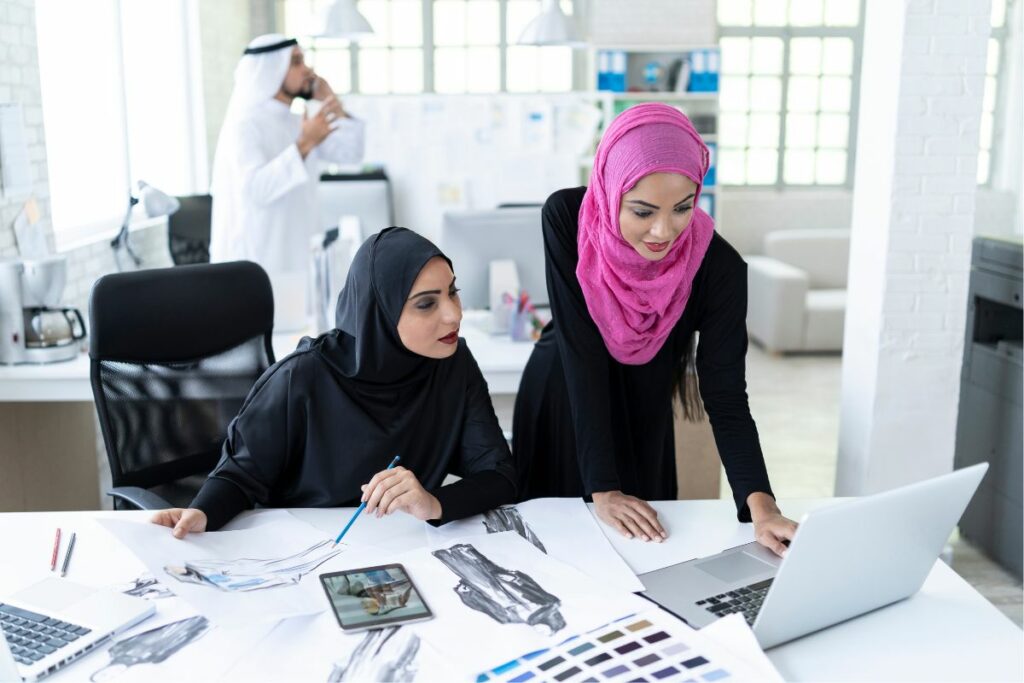 Here's a step by step guide on how digital nomads should apply to Abu Dhabi digital nomad visa scheme:
Eligibility confirmation : before you start the application, ensure you fit the eligibility criteria, especially the monthly income threshold and valid health insurance.
Document preparation : organize all necessary documents and make sure each aligns with the stipulated requirements.
Online application : go to Abu Dhabi's official Resident's Office website. Here, you'll fill out the visa application ; input details like personal information and specifics about your employment and projected stay.
Application submission : once satisfied with the accuracy of your application details, submit alongside the gathered documents. You can do this online or, if already in the UAE, in person.
Email confirmation : post-submission, look out for a confirmation email detailing your application status and any subsequent steps. This email serves as an initial acknowledgment of your application.
Fee payment : instructions regarding fee payments will be contained in the confirmation email. Ensure to process this promptly to avoid delays.
Visa approval & arrival : after a processing period, you'll receive your visa digitally. With this in hand, you're set to leave !
Medical assessment : within the first month of visa approval, book and attend a mandatory medical check-up in Abu Dhabi. This step is integral to the final stages of the visa process.
Biometrics submission : following your medical examination, the next step involves visiting the biometrics office in Abu Dhabi, carrying along your medical results for validation.
Passport endorsement : you'll get a notification to visit the Abu Dhabi resident's office. Here, they'll officially stamp your visa on your valid passport.
Receive the Emirates ID : a few days post the passport stamping, you'll be issued the Emirates ID. This critical document verifies your resident status in Abu Dhabi, so ensure it's always accessible.
Renewal Process Digital Nomad Visas In Abu Dhabi
While the initial visa grants a stay of up to a year, digital nomads who desire a prolonged sojourn can apply for an extension.
The renewal process involves a review of your current employment status, monthly income and other eligibility criteria.
Always initiate the renewal process well in advance to ensure continued legal status in Abu Dhabi.
How Long Is Digital Nomad Visa For Abu Dhabi Valid For ?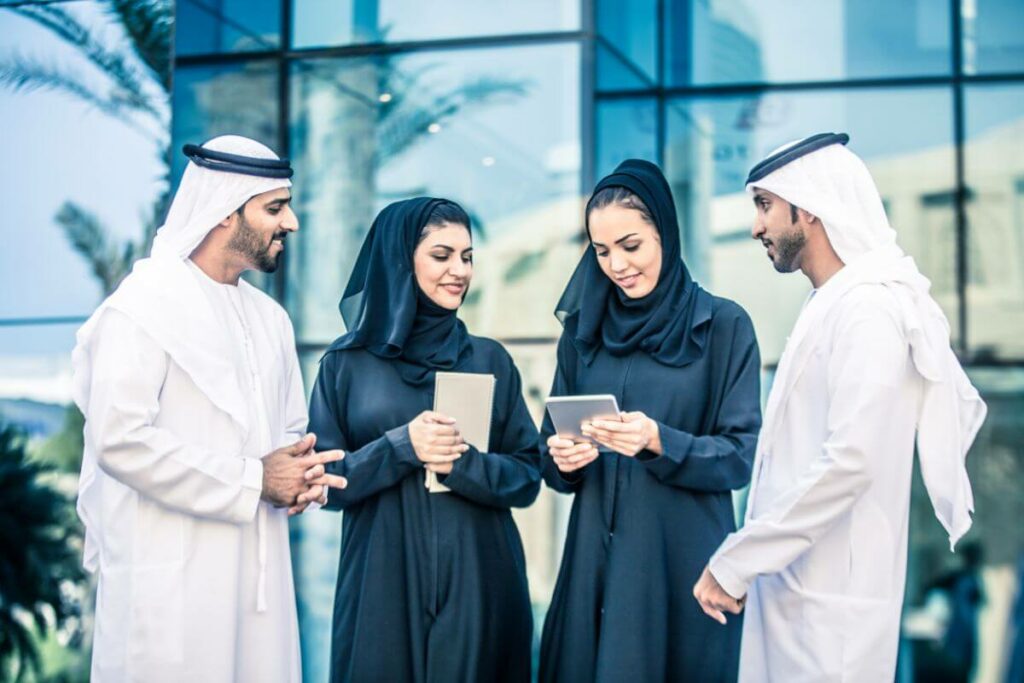 The Abu Dhabi digital nomad visa grants an initial validity period of up to a year.
This one-year span provides ample time for digital nomads to experience and immerse themselves in the Emirati culture while they benefit from a conducive environment for remote work in Abu Dhabi.
In addition, there's an option to renew the visa for another year. So the Abu Dhabi digital nomad visa might be valid for up to two years in total.
Cost Of Digital Nomad Visa Abu Dhabi
The remote workers visa for Abu Dhabi requires an investment for the future of your remote working journey.
The processing fee stands at $287, which covers the application process. It's a lot cheaper than Dubai's digital nomad visa ($611).
But additional expenses come into play to ensure a comprehensive coverage during your stay in Abu Dhabi. These encompass the medical insurance tailored to your duration of residence in the UAE.
Additionally, there's also a processing fee associated with the issuance of the Emirates ID. All in all, you can expect a visa fee of around $500 depending on the options you choose.
Abu Dhabi Digital Nomad Visa Tax To Expect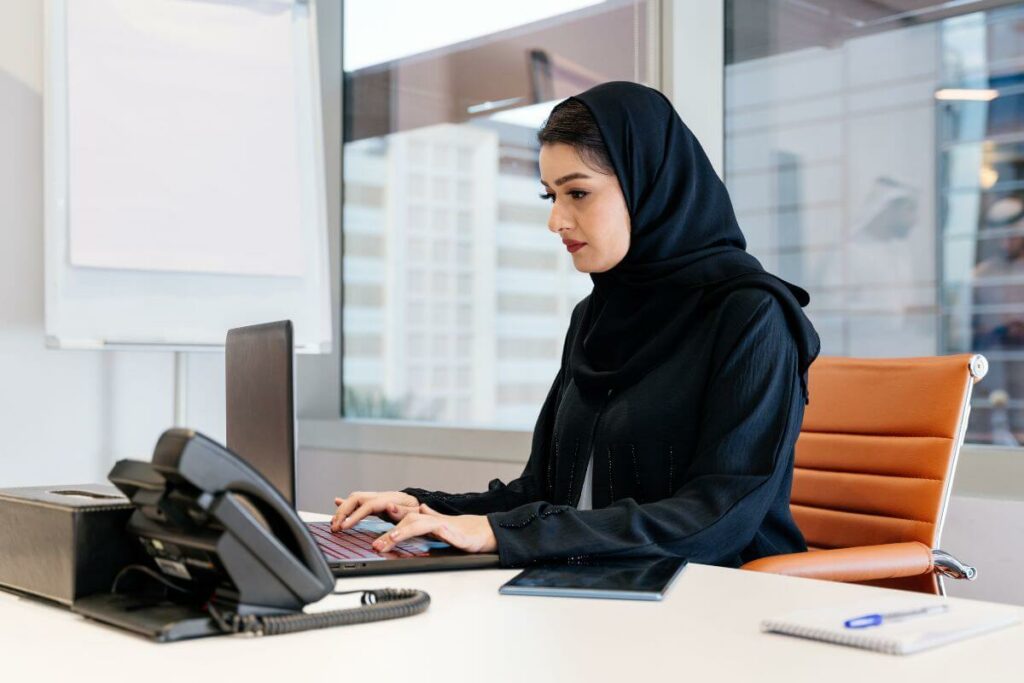 It's one of the significant advantages of the Abu Dhabi remote work visa : the tax relief it offers.
Those working remotely in Abu Dhabi under this visa enjoy the luxury of no income tax. This means they can retain the entirety of their income earned while staying in the UAE.
This can be particularly enticing for digital nomads looking for favorable tax conditions. But even if Abu Dhabi's tax environment is attractive, stay cognizant of your home country's tax obligations.
How Long You Wait To Get Abu Dhabi Digital Nomad Visa
Obtaining the Abu Dhabi Digital Nomad Visa is a swift process.
Once all required documents are submitted and the application is finalized, the processing time ranges between 10 to 14 days.
You will receive a confirmation email upon successful submission, and subsequent communication will inform you of your visa status.
Bringing Family With You
Abu Dhabi offers provisions for digital nomads who wish to bring their family along.
Once granted the Abu Dhabi Digital Nomad Visa, the visa holder can apply for dependent visas for their spouse, children or other immediate family members.
This ensures that while you work in this Emirate, your loved ones can reside, explore, and immerse themselves in the local culture with you.
But bear in mind each dependent's visa will come with its set of requirements and costs.
Cost Of Living In Abu Dhabi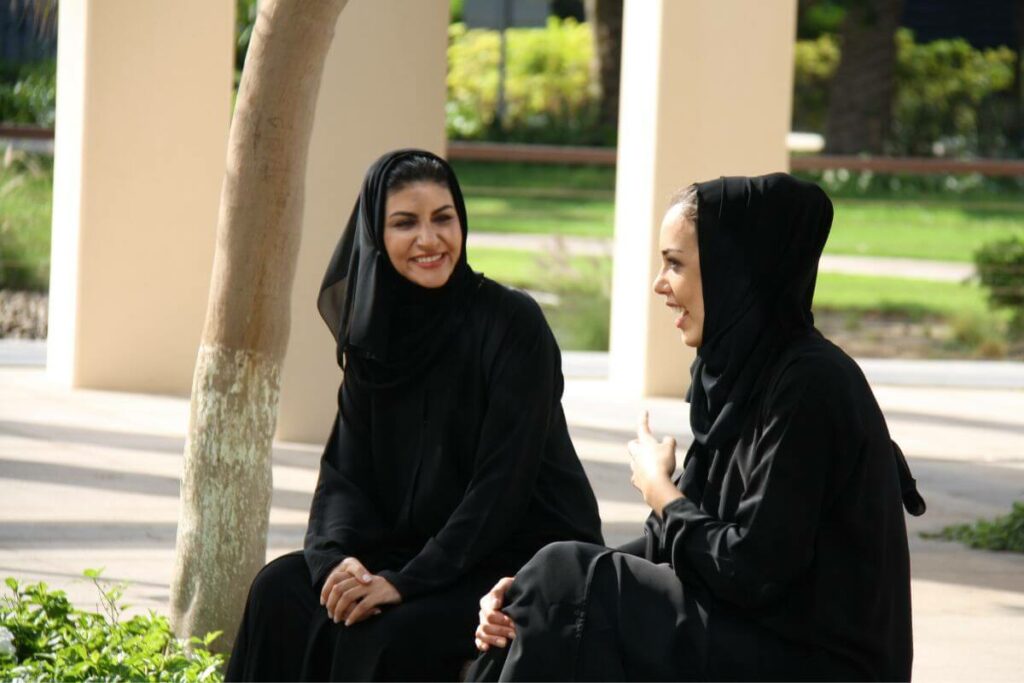 The capital of the United Arab Emirates offers a luxurious lifestyle that is reflective in its cost of living.
While some aspects, like fuel, are surprisingly affordable due to the country's oil reserves, other costs like accommodation and dining are on the higher side.
To give you a clearer picture, let's break down some average expenses in various categories.
| Accommodation | Cost |
| --- | --- |
| Rent | 900 to 1400 € / $990 to $1540 |
| Buy | From 100000 € / From $110000 |
| Hotels | 50 to 100 € / $55 to $110 |
| BnB | 40 to 70 € / $44 to $77 |
| Food | Cost |
| --- | --- |
| Restaurant | 20 to 30 € / $22 to $33 |
| Groceries | 200 to 300 € / $220 to $330 /month/pers |
| Fast Food | 5 to 10 € / $5,50 to $11 |
| Transports | Cost |
| --- | --- |
| Train | – |
| Bus | Around 1 € / $1,10 per trip |
| Taxi | Around 3 € / $3,30 per km |
| Car rental | 40 to 60 € / $44 to $66 per day |
| Airplane | Around 150 € / $165 per domestic trip |
| Leisure | Cost |
| --- | --- |
| Day excursion | 70 to 100 € / $77 to $110 |
| Nightlife | 20 to 30 € / $22 to $33 |
| Museum / attractions | 8 to 15 € / $9 to $16,50 |
| Outdoor activities | 50 to 70 € / $55 to $77 |
You can also check the Cost of Living in Abu Dhabi here.
Is There Digital Banking In Abu Dhabi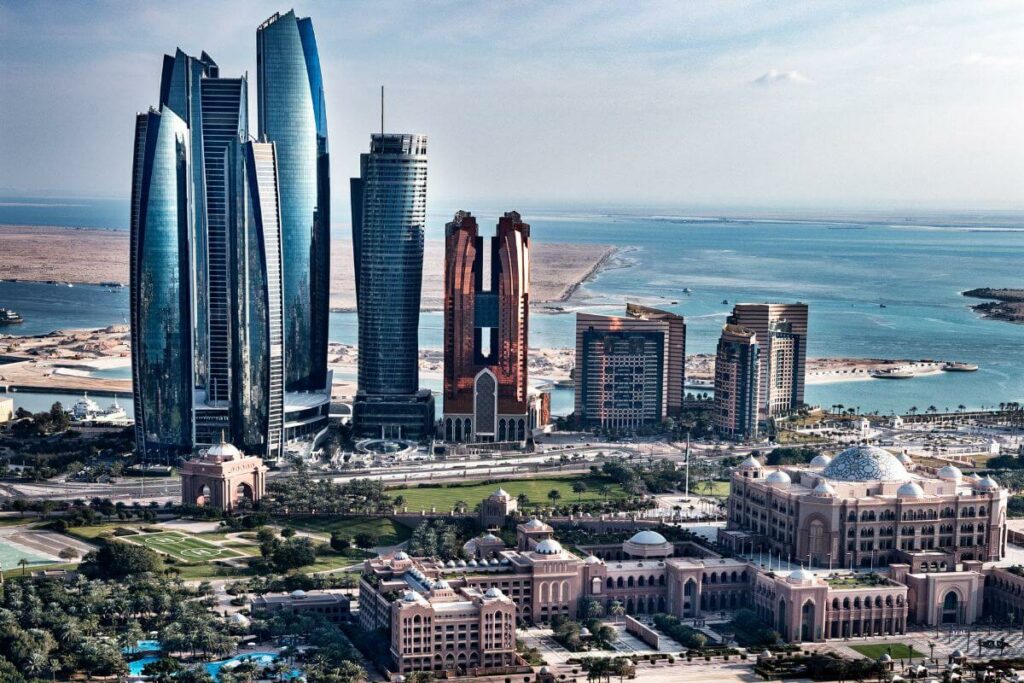 Absolutely ! Abu Dhabi being the forefront of the UAE's push towards modernization, it has incorporated digital banking into its financial ecosystem.
Many local banks like First Abu Dhabi Bank or ADCB now offer sophisticated digital banking platforms to manage your finances on the go.
From real-time balance checks, fund transfers, to bill payments, everything can be handled with a few taps.
For digital nomads and business travelers, we would recommend coupling these banking features with the best apps for business travel.
Which VPN Works Best In Abu Dhabi For Digital Nomads ?
For digital nomads in Abu Dhabi, NordVPN stands out as a top choice.
Highly acclaimed in numerous online reviews, it offers robust security features and a vast network of servers.
Its consistent performance and user-friendly interface make it a favorite among the digital community !
Popular Digital Nomad Hotspots (Cities) near Abu Dhabi
Wishing to use your UAE digital nomad visa to join foreign nationals hotspots ?
Here are the best cities we could find:
Yas Island – A modern marvel ! Yas Island is a hub for entertainment and adventure. From the adrenaline-packed Ferrari World and Yas Waterworld to the tranquil Yas Marina, digital nomads will enjoy a balance of work and leisure.
Al Ain – Often referred to as the "Garden City" due to its lush landscapes, Al Ain is an oasis in the middle of the desert. With its rich history, parks and natural hot springs, it offers a unique environment for digital nomads seeking a blend of heritage and nature during their remote work stint.
Saadiyat Island – Looking for a mix of luxury, beach vibes and cultural touchpoints ? Saadiyat Island is ideal. Home to upscale resorts and the famed Louvre Abu Dhabi, this island provides a tranquil backdrop for digital nomads.
Reem Island – A rapidly developing area ! Reem Island stands out with its impressive skyscrapers and contemporary design. With its variety of modern amenities, green spaces and proximity to the city's main business districts, it's gaining popularity among the tech-savvy nomad community.
Are There Coworking Communities In Abu Dhabi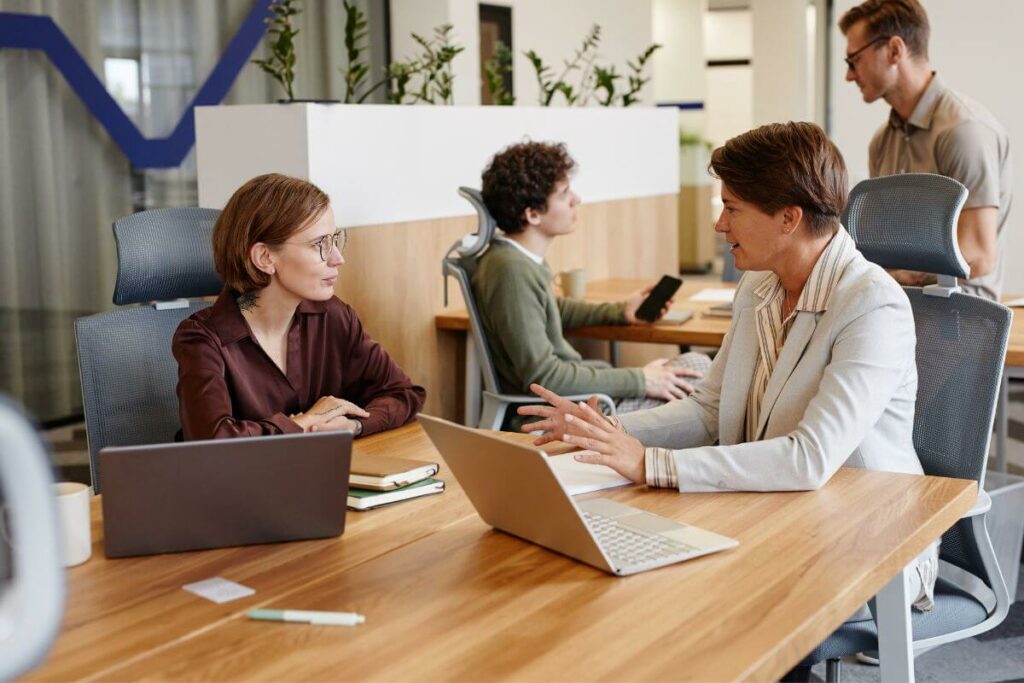 To conduct business abroad, it's always good to join local coworking communities.
Here are the major cities with coworking spaces in Abu Dhabi.
Abu Dhabi City
Many digital nomads choose the capital city as it boasts several coworking spaces.
Spaces like WeWork and Cloud Spaces offer state-of-the-art amenities, regular networking events and a diverse community of professionals. A primary hotspot for remote workers !
Al Ain
In Al Ain, the emphasis on education and its status as a university city means there's a budding environment for collaborative workspaces.
Though not as numerous as in the capital, coworking spaces like Bluewings Office cater to the local student and entrepreneur population. It provides a calm atmosphere aligned with the city's laid-back vibe.
Yas Island
As Yas Island evolves into a modern entertainment hub, it's also witnessing the emergence of coworking communities.
Newer establishments like Cloud Spaces are catering to both traveling professionals and locals.
Is Abu Dhabi Safe For Digital Nomads ?
Abu Dhabi is amongst the safest destinations for digital nomads.
Its low crime rate and advanced infrastructure ensure that nomads can work and travel without significant security concerns.
However, traffic may be a challenge ; always be cautious while crossing roads and understand the local driving patterns.
For those unexpected mishaps or health issues, we would recommend you subscribe to health insurance before embarking on your Abu Dhabi journey.
Don't hesitate to compare SafetyWing and World Nomads, some of the top choices to work remotely !
Final Pros & Benefits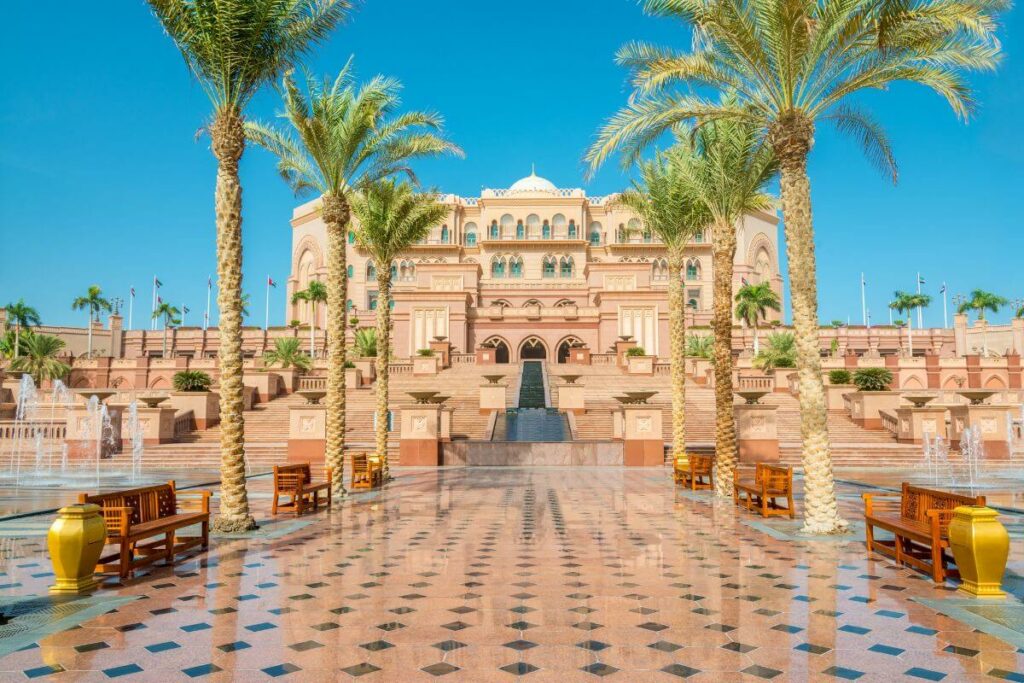 Abu Dhabi boasts cutting-edge infrastructure and high-speed internet, which is a boon for remote workers.
The mix of modernity and tradition offers a rich cultural experience. With its tax-free income policy, your earnings remain intact so you maximize your savings potential.
Let's add to that Abu Dhabi's strategic location, which makes it a gateway to both the East and the West.
Lastly, the growing community of digital nomads ensures that networking opportunities abound !
Few Drawbacks To Have In Mind
While Abu Dhabi offers an array of benefits to digital nomads, there are a few considerations to keep in mind.
The cost of living is higher compared to other popular nomad destinations. The summer months also bring extreme heat and often limit outdoor activities.
Cultural differences require adjustment and respect for local customs. So be aware of these nuances to ensure you will enjoy your stay there.
3 Alternative Countries With Similar Requirements We Recommend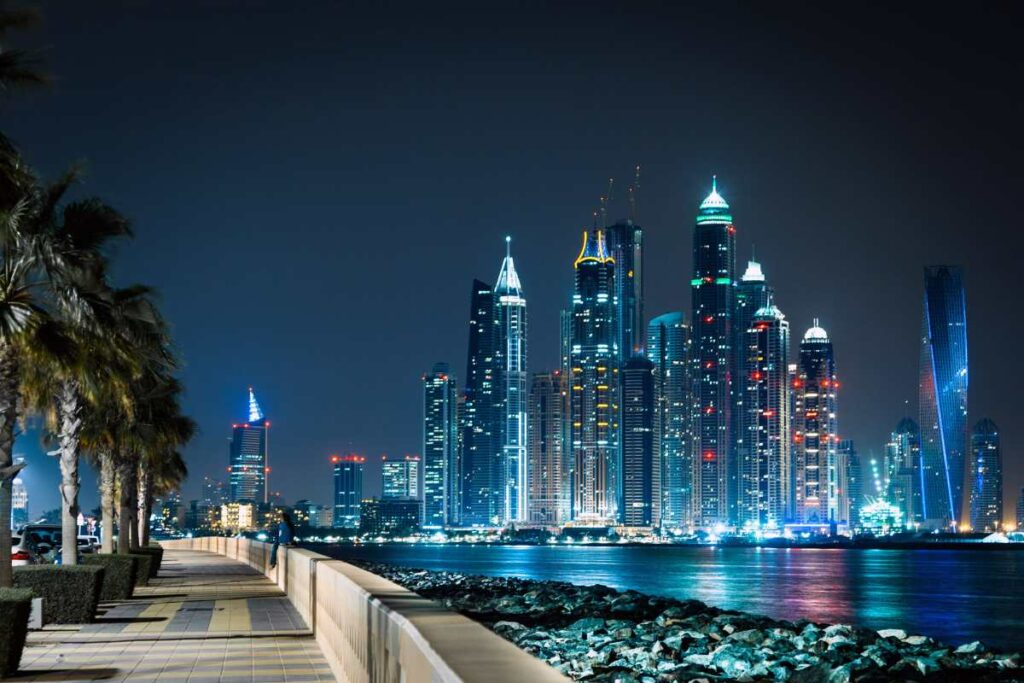 Not fully convinced by Abu Dhabi or UAE digital nomad visa ?
Here are some other destinations with similar requirements that are also great to work remotely.
Dubai
A neighboring Emirate in the UAE. Dubai is a hub of luxury, innovation and opportunities for digital nomads.
Just like Abu Dhabi, Dubai remote work visa allows remote professionals to live and work amidst skyscrapers, beaches and a blend of Eastern and Western cultures.
The Philippines
The Philippines is getting more and more popular with digital nomads thanks to its white-sand beaches, friendly locals and affordable living costs.
With the recent introduction of the Philippines freelancer visa, you can now enjoy longer stays while soaking up the island life.
Turkey
Turkey offers a unique blend of Eastern and Western cultures.
Cities like Istanbul and Antalya are gaining popularity among remote workers for their moderate living costs, scenic beauty and growing coworking communities.
On top of its tourist visa, Turkey's visa for digital nomads will largely ease your entry.
FAQs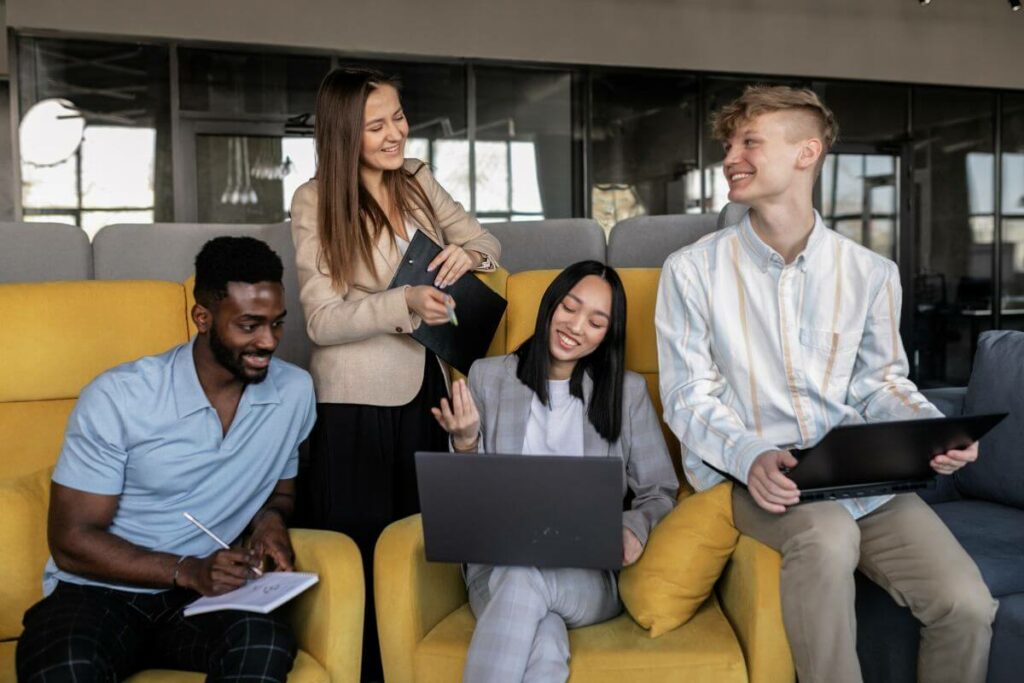 Is it possible for digital nomads to work remotely in Abu Dhabi without a visa ?
No, digital nomads must obtain the appropriate visa to work remotely in Abu Dhabi legally.
What are the eligibility criteria for the Abu Dhabi Digital Nomad Visa for American citizens ?
American citizens must show proof of a monthly income of at least $3500, valid health insurance and proof of remote employment.
How long can digital nomads stay in Abu Dhabi under the Digital Nomad Visa ?
Digital nomads can stay up to one year, with the option for renewal for another year.
Does the Abu Dhabi Digital Nomad Visa lead to permanent residency opportunities ?
No, the visa is strictly a temporary residence permit and doesn't lead to permanent residency.
Are there any quotas on the number of Abu Dhabi Digital Nomad Visas available ?
There aren't any announced quotas on the number of visas available yet, but there might be in the future.
Are language proficiency requirements enforced for the Abu Dhabi Digital Nomad Visa ?
No, there are no language proficiency requirements for this visa but it's always good to learn some basic arabic phrases.
What penalties apply for exceeding the visa duration in Abu Dhabi ?
Overstaying will result in fines, visa bans or deportation from the UAE.
Wrap Up
Abu Dhabi's digital nomad visa offers a great opportunity for remote workers to experience the city's luxurious lifestyle and rich culture.
With no income tax, a thriving coworking community and a huge choice of digital amenities, the emirate stands as an attractive destination for nomads.
Always keep in mind the visa's requirements and local norms before you apply !