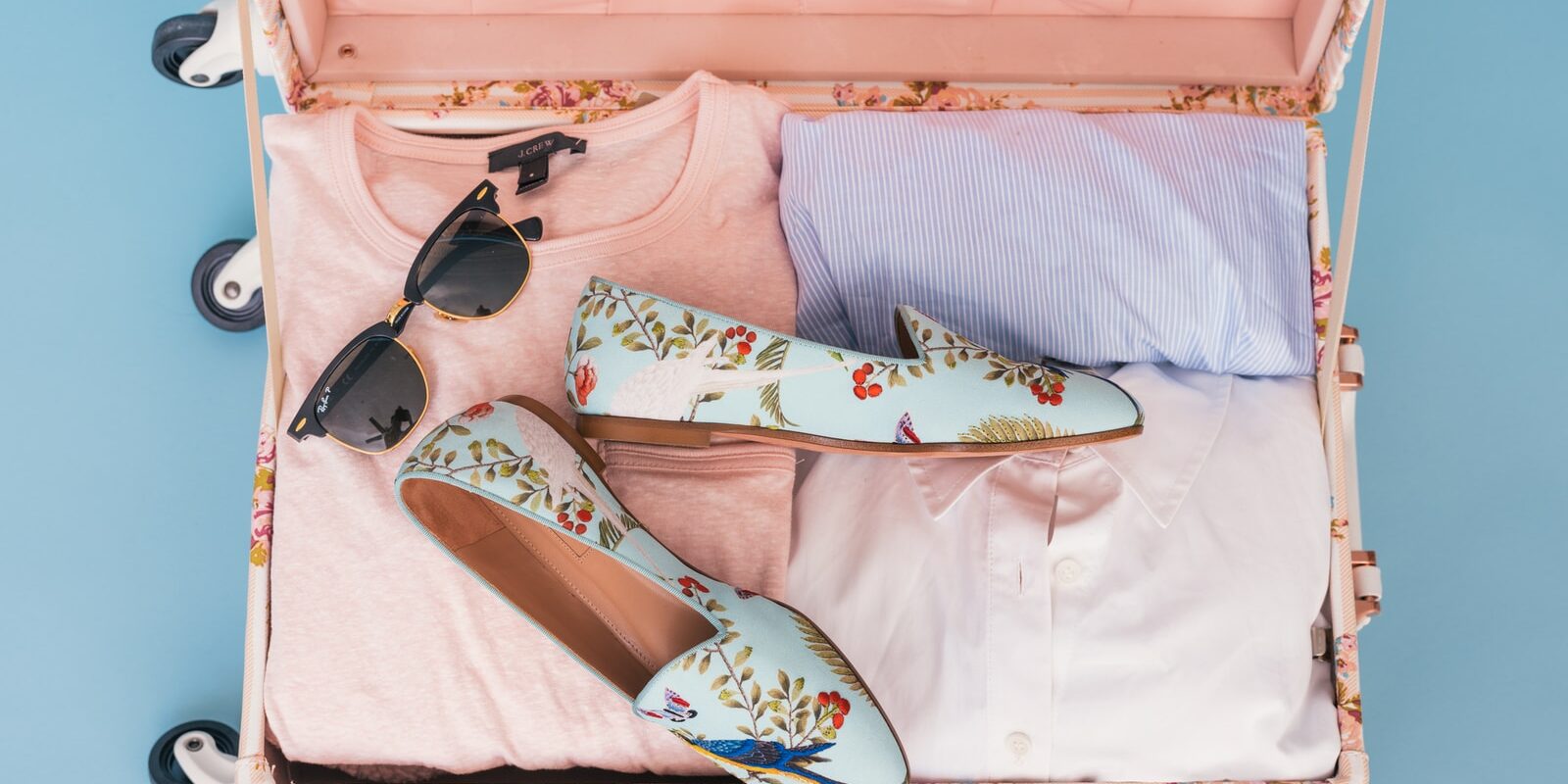 So now you're all set to go and travel to Europe. Your passport and your Schengen visa are ready, your flight ticket is booked, your itinerary is complete, and you even know where you'll be staying during your trip… Congratulations, you're ready to leave !
Oh but wait… There's still one thing you need to do, and it's not an easy one: you still have to pack! Packing to travel to Europe can be quite a long and stressful process. But no worries, to make things easier for you, we've compiled a Europe packing list which will help you pack the things you have to bring to Europe.
Book Your Flight Reservation Now
Europe packing list : travel backpack VS. wheeled suitcase
Before starting to pack your things, you absolutely need to figure out the type of luggage you'll bring for your trip to Europe. The Complete Guide to a Schengen Visa provides you with all the necessary information about the items you should pack when traveling to Europe. You basically have two options here, each one with its own positive and negative aspects :
A travel backpack : if you plan on walking a lot, on using public transportation and on traveling lightly, then travel backpacks may be your best option. They're pretty easy and light to carry, they often offer a lot of pockets and they are easy to carry everywhere, even in staircases and cobblestones. However, carrying a big travel backpack can be tiring and cause back pains.
A wheeled suitcase : if you plan on traveling with heavy gear, if you have any back issues or if you want your things to remain organized all the way, then you may choose a wheeled suitcase. Hard-shell suitcases, for example, will protect all your fragile items. However, wheeled suitcases are not always easy to carry around in staircases and cobblestones.
Europe packing list : clothes
If you plan on traveling to Europe soon, then you probably know it's a very fashionable destination. But how will you manage to fit in and get comfortable at the same time? The best advice we could give you would be to take ordinary-looking clothes. Of course, you could bring some fashionable outfits as well as comfortable clothes, but that would mean you'd have to bring a big part of your wardrobe with you. And the last thing you want is having to drag a very heavy bag all around Europe.
So the best thing you could do here is to bring mix and match clothes according to the weather and your destination. Try to stay casual. No one will make fun of you if you wear dark wash jeans with a white or a black t-shirt.
Bottoms to bring to Europe
Try to bring comfortable and fashionable trousers like one or two pairs of jeans. On top of that, if you travel during summertime, you may bring one or two skirts or pairs of shorts. Cotton should always be your first choice as it's both comfortable and easy to wash.
Tops to bring to Europe
Opt for basic t-shirts/blouses that will match all your trousers/shorts/skirts. During summertime, we'd advise you to bring 7 to 10 t-shirts so you can change them every day. You can also bring 2 or 3 fashionable long-sleeved shirts/tops as well as something to layer up. In Europe, the weather changes constantly so it's good to always have a jacket or a sweatshirt close at hand.
On top of that, we'd recommend you to bring an elegant outfit so you're always ready to accept an invitation to go to dinner or to a fancy party. Here we mean an elegant shirt for a man and a nice dress for a woman, for example.
Shoes to bring to Europe
With shoes, there should be no concession as comfort is always a priority. You're going to walk a lot during the whole trip, so you don't want your feet to end up full of blisters. Shoes also take a lot of space in your luggage, that's why you shouldn't bring more than two pairs. One pair of sneakers or walking shoes that you'll wear during the day, and one pair of fashionable shoes that you'll wear when you go out. On top of that, you may want to bring a pair of flip-flops, especially if you plan on staying in hostels.
Tip: Don't take new shoes on your trip, they will probably cause a lot of pain.
Underwear to bring to Europe
Travelers tend to forget that underwear is actually as important as clothes. Wearing comfortable underwear is a must to enjoy your trip. Opt for breathable and easy-to-dry underwear so you can take only 5 of them and hand-wash them frequently.
Same thing for socks, which will have to be comfortable, breathable, and easy-to-dry so you can take only 5 pairs and hand-wash them whenever you need clean ones.
Accessories to bring to Europe
Choose your accessories very carefully so they don't weigh too much in your luggage. Depending on the season, you might want to take a scarf and a warm hat. But if you travel to Europe in summer, leave them home and take sunglasses instead. Please avoid taking too much jewelry or expensive watches with you and try to keep it simple.
On top of that, since you'll probably spend most of your time walking around and doing activities, you will need a small and light backpack to carry your stuff around. A theft-proof backpack might be a good option to keep your things safe.
Book Your Flight Reservation Now
Europe packing list : electronic gear
Your trip to Europe will probably be the occasion to take some pictures. But what electronics should you take with you?
Smartphone to bring to Europe
Bring your usual smartphone. If it's a good one, it may be used as a camera as well. To be able to stay in touch with your friends and family during your trip, simply use the Wi-Fi connection at your hotel/hostel. If there's none and you want to be reachable at all times, then you can buy a local prepaid SIM card.
Laptop / tablet to bring to Europe
If you don't plan on working during your trip, leave your laptop at home. It's heavy and there's always a risk of it being damaged or stolen. If you want to work during your trip, then bring light and compact laptop or replace it with a tablet. A tablet is way lighter and will allow you to watch movies and series during your trip. It can also replace a smartphone while it's connected to Wi-Fi.
Camera to bring to Europe
If you have a good smartphone, then it might be enough to take reasonable pictures. But if the photo quality is not sufficient, then you might want to bring your camera. Just make sure it's light and compact.
E-reader to bring to Europe
Of course, nothing will ever replace paperbacks. But if you want to travel light, then you'll have no choice but to bring an e-reader with you.
Outlet plugs and chargers
European outlets are different from other countries so, if your electronic items don't fit, bring a voltage plug converter with you.
Book Your Flight Reservation Now
Europe packing list : travel & insurance documents and money
Your travel documents are probably the most important things you'll have to put in your luggage. Make sure your passport, your Schengen visa or ETIAS, and your plane tickets are always close at hand, and send yourself copies of them by email. The Schengen visa application form can be downloaded from the website.
Always have some cash money and your credit/debit card with you.
On top of this, you shall have at all times your travel insurance card in your wallet in case of emergency. Your travel insurance policy will cover you in case something happens, like an accident or an illness. Without proper insurance, going to a doctor or being hospitalized may cost you thousands of dollars.
Europe packing list : health and toiletries
Even a small health issue could ruin your trip. So you better take the right medicines with you. Bring any prescription and take all the drugs you are used to taking at home (for headaches, diarrhea, muscular pains, etc.).
Also bring a toilet bag with your toothbrush, your toothpaste, some soap, and shampoo, as well as wet wipes and tissues.
If you plan to do any laundry during your trip, you can bring a packet of detergent or laundry soap, plus a portable clothesline that will allow you to dry your underwear.
And don't forget that any store in Europe will have what you forgot. So the important things here are your travel documents, your electronic items, and your biggest smile. Yes… Don't forget to smile, 'cause you're about to leave for the trip of a lifetime !